No doubt Instagram is one of the most popular social media platforms for sharing photos, videos, and connecting with friends and followers. While Instagram was initially designed for mobile devices, there is a growing demand for using Instagram desktop because of how comfortable it is working on a computer instead of a phone.
Related post: How to use TikTok on the PC
In this article, we'll explore the various options available to use Instagram desktop and the pros and cons of each of them.
---
Instagram has a great app but…
Instagram is known for its user-friendly mobile app, but it's not always practical to rely solely on your smartphone for managing your Instagram account.
Whether you're a social media manager, content creator, influencer or micro influencer or simply prefer the larger screen of your desktop and the more comfortable way of writing through a physical keyboard, there are several ways to use Instagram efficiently.
---
Instagram is better through the computer!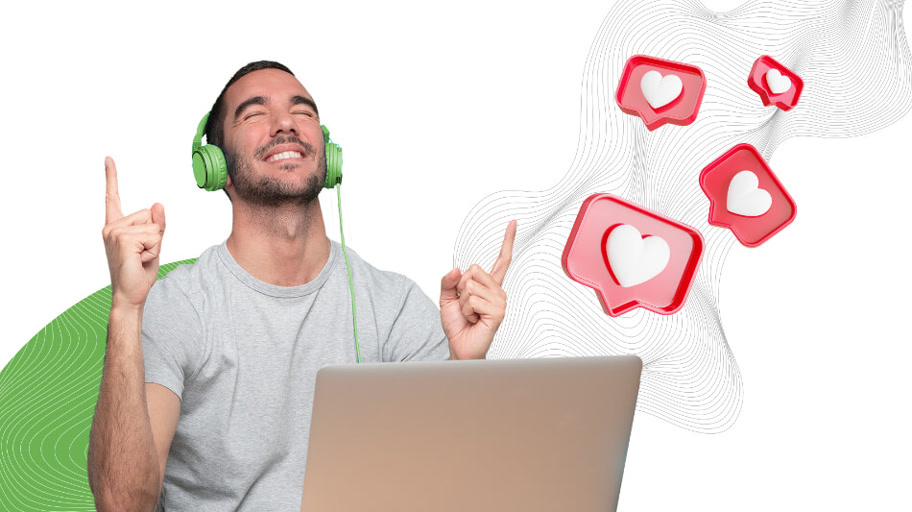 Yes, we know it too: sometimes Instagram is better through the computer!

Before we delve into the options, let's understand why using Instagram on a desktop can be advantageous:

Larger Screen: a desktop offers a more spacious view, making it easier to see details in photos and videos.
Convenience: typing, editing, answering messages and comments and interacting with followers in general is 10 times more comfortable with a physical keyboard and a mouse.
Multitasking: through Instagram desktop you can easily switch between multiple tabs and applications, streamlining your workflow.
Professional use: content creators and businesses often need to upload high-quality images and videos edited from their computers, so doing it from there makes the whole process faster and more convenient.
Related post: how to sell on Instagram on 2023
---
What options do you have to get Instagram desktop working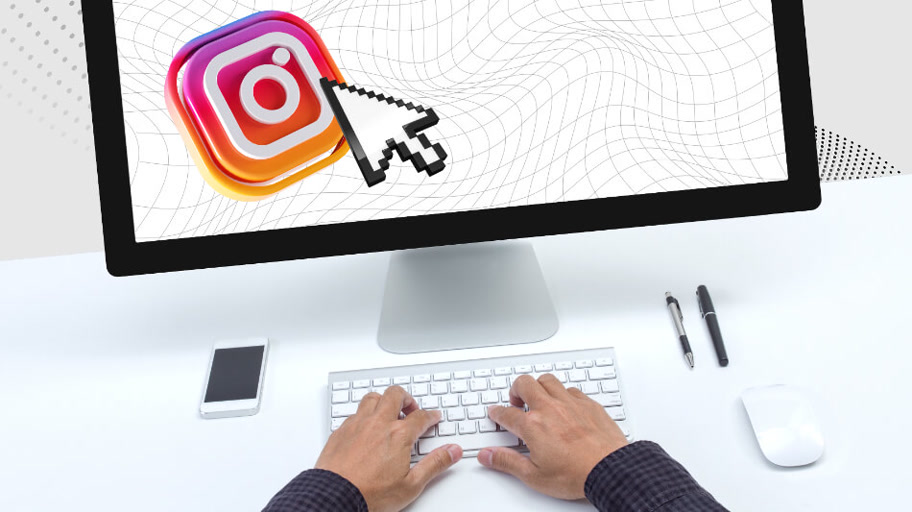 You are reading this post from a computer? So then let's see the options you have to get Instagram running on it in a matter of minutes.
#1: Instagram web (which allows you to upload & edit photos since May 2023)
The simplest way to access Instagram on your desktop is by using your web browser. It's as easy as:
Opening your preferred web browser.
Going to Instagram's official website.
Logging in to your account.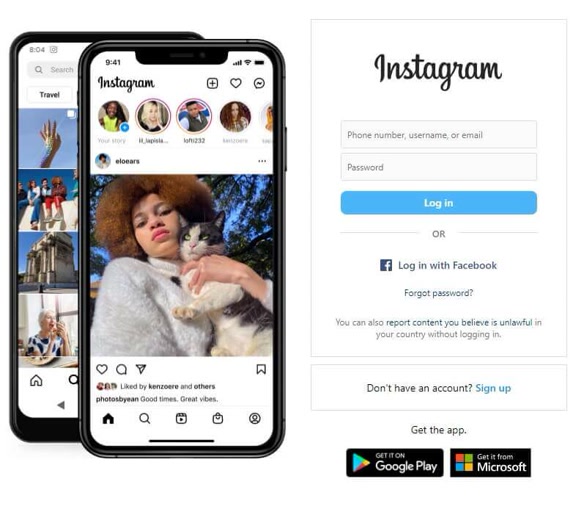 Instagram web interface is user-friendly and closely resembles the mobile app. You can scroll through your feed, view stories, and interact with posts, though some features may be limited compared to the mobile version. What are the functionalities you have on Instagram web?
2023 update: Instagram web allows you to upload & edit pictures from the web browser version
Yes, you heard it right (and probably the Instagram team heard the demands too): around May 2023, Instagram web interface added the functionality of uploading, editing and publishing pictures directly from the web browser.
Now, through Instagram web you can:
add one or multiple images
edit them with filters
write the needed captions
tagging other accounts
Basically a fully functionable Instagram account on your computer and without the need of third party apps. Simply click the '+' icon and follow the prompts to add your content.
Here you have a screenshot with the the button to start a new post through Instagram web: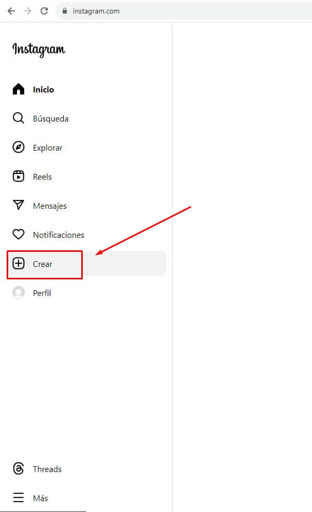 You can engage with posts Instagram web
You can like, comment, and share posts just like on the mobile app. And like in the app, the heart icon represents likes, the speech bubble comments, and the paper plane sharing.
You can interact with stories on Instagram web (but not publishing stories)
At the time of writing this post (October 2023) you can see stories on Instagram web, react to them and share them, but posting stories is still reserved for the app.
You can also send messages
Through Instagram web you can also create conversations and send messages to other accounts.
---
#2: Instagram desktop app (for Windows)
Instagram provides an official Instagram desktop app for Windows 10, which you can download from the Microsoft Store. It offers a comprehensive Instagram experience that is exactly the same like using Instagram web like we have seen above (so it has the same limitations too). No more no less.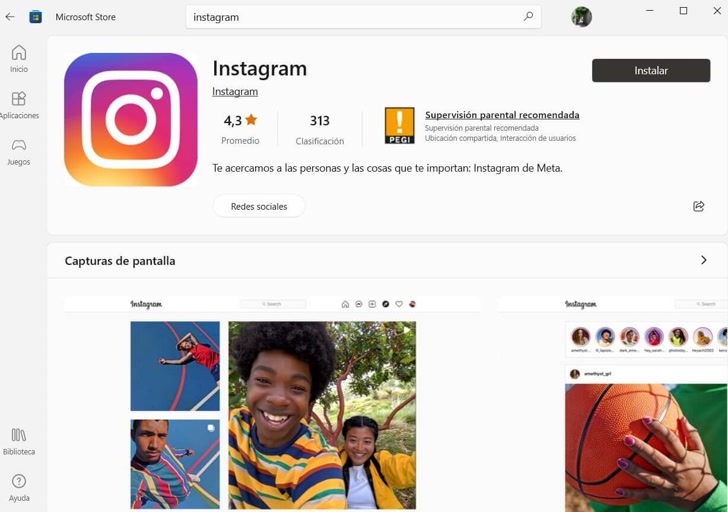 Image above: Instagram Windows app on the Microsoft Store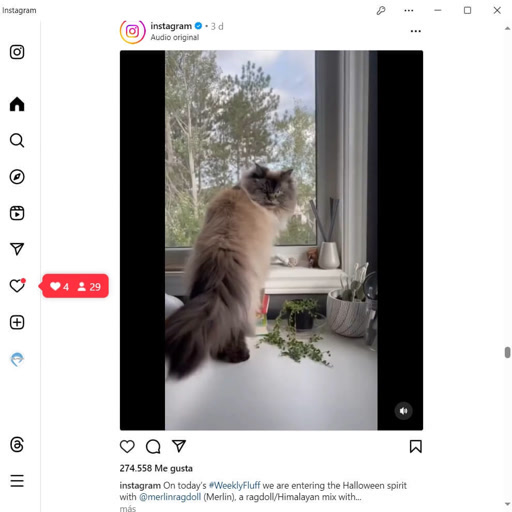 Image above: Instagram for Windows running. As you can see, it's exactly like using Instagram Web
Using Instagram on a Mac laptop
At the moment of writing this article there was no official Instagram desktop app for installing Instagram on Apple Mac laptops.
The workaround would be installing a third-party application or extension for Safari or Chrome web browser.
---
#3: Android emulators: have a smartphone environment working on your computer
Another option for using Instagram on your desktop is through emulators. Emulators like 'BlueStacks' and 'NoxPlayer' simulate having an Android phone on your computer, enabling you to run the Instagram mobile app seamlessly.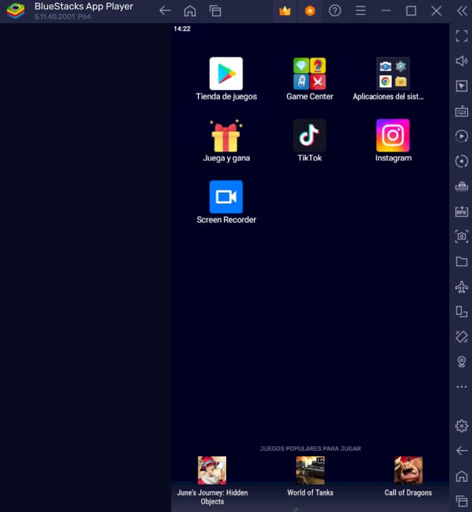 Image above: Bluestacks emulator with Instagram app installed

Using an emulator can be particularly handy if you want a full Instagram desktop app experience, including posting stories and accessing all the features available on your smartphone.
Like its name suggests, an emulator emulates the environment of an Android phone, so will have a desktop where you will be able to operate like if you were inside a smartphone. That means that you can install Android apps like you would do on any Android phone. So yes: you can install Instagram inside your emulator and run the app through your PC.
The most common Android emulators are BlueStacks, NoxPlayer, and LDPlayer. However, the images and snapshots we are going to use for this article are from BlueStacks.
Android emulators create a virtual Android environment on your computer, allowing you to download and run Instagram, just as you would on a smartphone.
If you do not want to log-in into your Google account to download Instagram from Google's Play Store, you can download the app as an APK package from Uptodown.com.
How to have an Android emulator running on your computer
Here's how to get started:
Download your desired Emulator: select and download your preferred Android emulator from their respective official websites. We like to use BlueStacks, but any other one will work too.
Install the Emulator: after downloading, run the installer like you would do for installing any kind of software and follow the on-screen instructions.
Set Up Google Play Store: open the emulator and set up the Google Play Store with your Google account.

Remember that optionally, BlueStacks allows you to run your Android emulator without having to login into your Google account.
You will not have access to Google Play Store to download the apps, but you can download the installation package from a third party website like Uptodown.com

Install Instagram: Search for Instagram in the Play Store, then install and launch the app.
Optional: if you didn't login in your Google's account through your PC, then you won't have access to the Play Store.

Download Instagram's apk (Android installation package) from Uptodown.com
To install the .APK file from Instagram on BlueStacks simply drag and drop the .APK file into BlueStacks' dashboard and the emulator will install it
Important: how to import content from your PC into the emulator
Once you have Instagram's app up & running you will probably want to know how to start uploading content there.
You will notice that the Instagram installation you have inside BlueStacks does not have any content inside the gallery: no images, no videos, nothing for you to upload into your Instagram's account.
So how do you get the content you edited inside your computer using third party image and video editors into the emulator? Simple: drag and drop it. After doing so the content you imported into the emulator will be available inside the Gallery from the emulated Android environment.
Also the Instagram app will detect the content imported into the emulator and you will be able to upload it into your Instagram account. Easy.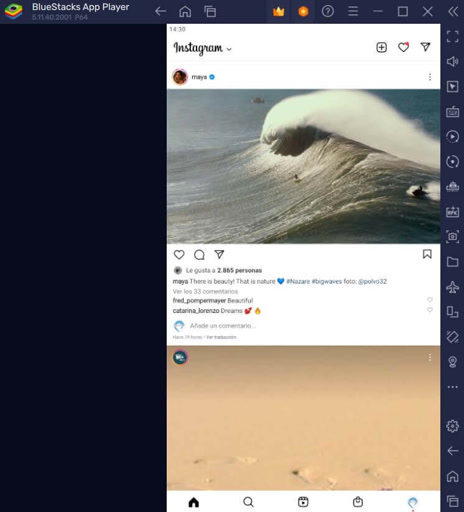 Image above: Instagram running on a computer through the Bluestacks emulator
---
#4: Third party apps to post content (but not for using Instagram itself)
There are tools that allow to post content from your computer so the workflow is more fluid and comfortable for you.
You can use tools like 'Later' and 'Buffer' to schedule posts for better time management.
Important note: you won't be able to interact with your Instagram account with these apps (that's not what they are designed for), but you will be able to post content and even schedule it for the following days so it will be published automatically.
---
Tips and tricks to use Instagram on the desktop
When using Instagram on a computer you may consider following these tips and security advices:
Ensure your PC is secure, password protected, and your Instagram account information is safe.
Use strong passwords and consider enabling two-factor authentication when using Instagram on a PC, especially if the account is shared among different social media managers.
Have a backup of the content you have created in the PC for Instagram and haven't uploaded yet: if your computer breaks down it will be lost.
Do not rely on the computer for everything: important notifications won't be seen while the computer is off.
In conclusion, using Instagram on a PC offers various options to suit your preferences and needs.
Whether you choose to use an emulator, explore the web version, or install the Windows app or Mac extension, you can definitely enjoy the world of Instagram on a larger screen.
---
Are you an influencer or a social media manager?
If you are reading this post about Instagram desktop because you do heavy use of Instagram at work, you should know that DRIM is the biggest influencer and micro influencer database out there.
Both influencers and brands/companies relay on us for their marketing campaigns: Cost-per-Action model, intuitive dashboard and a big team behind that will help with any question.
We are always looking for influencers of any size
We have a huge database of influencers that work with us helping big and small brands around the world like McDonald's, Laika or KFC.
You can be next! No matter the size of your audience.
Check our page DRIM for influencers to know more.
Trust the next influencer marketing campaign to us
We have hundreds of brands already working through DRIM to find the perfect influencer or influencers for their next marketing campaing: reliability, trust, experience and a control of costs and achieved actions.
Check our page DRIM for brands to know more.