Have you ever seen an Instagram profile with a blue checkmark? Generally, these are the accounts of major influencers or celebrities. Now any user whose profile meets several requirements can get a verified badge. We'll talk in detail about verification on Instagram in this article.
Why do I need a verified badge on Instagram?
Many people think that the blue badge is an indicator of the coolness, uniqueness, and exceptional status of the page. However, this has nothing to do with the real meaning of the badge.
To begin with, a checkmark is a verification on the platform. It is primarily needed for popular pages as major brands, celebrities, and famous influencers are constantly surrounded by scammers, haters, and fans.
They create fake pages where they publish false information. To protect this category of users, the platform offers them to verify their identity and get a blue checkmark.
Account verification also helps to distinguish the profile from fake pages. A blue checkmark next to the account name is a verification inside Instagram that you'll immediately see when searching the account. It is this badge that indicates the authenticity of the profile.
The account gets the highest priority in the search if verified. This increases profitability. Therefore, every business owner on Instagram should be verified.
A badge on Instagram can't help but have an impact on prestige. After all, all the world's brands, public figures, and celebrities have it. The image plays a key role in the world of social media. That's why everyone wants to have the cherished badge so badly.
---
Who can get a verified badge on Instagram?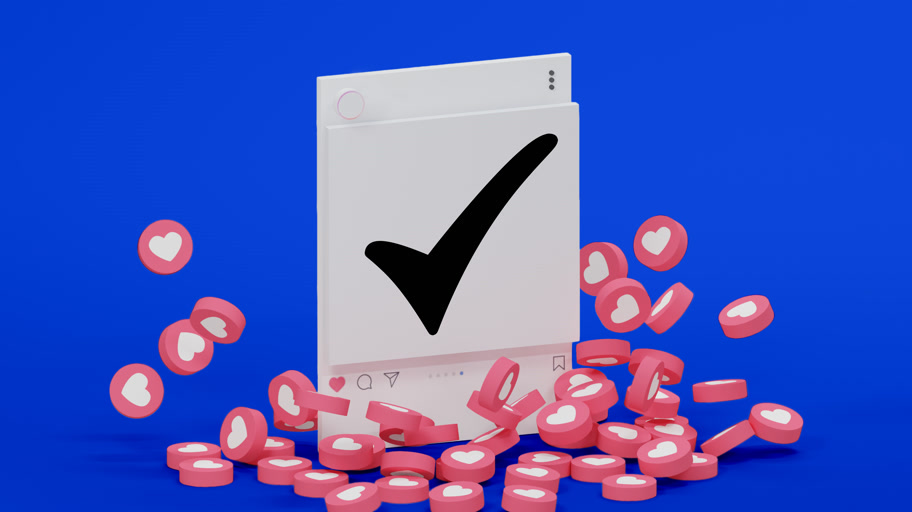 Originally, the main purpose of creating a checkmark on Instagram was protection from being copied. Therefore, the requirements that the account must meet are aimed at proving the uniqueness and value of the account.
According to the platform's official information, an account must meet all community requirements and regulations to get a verified badge. It also must be:
Authentic. The page must be managed by a real person, registered company, or organization.
Unique. The account must belong to one person, company, or organization. You can get a badge for only one account. An exception is possible only if you have profiles in different languages.
Completed. The page must contain full information and be publicly accessible. The user should have a biography, photos, and posts.
Important. The feature of verified profiles is that they are managed by well-known persons/companies/organizations which often appear in various media. At this step, information is checked on the news channels. Promotional and paid content won't be considered.
Increase your chances of getting a Instagram badge with a well planned content plan
It may seem that Instagram gives checkmarks only to major accounts due to the importance factor of the profile and the need for news about it in the media. That's not true. Three other factors will help users get the desired badge:
You don't have to worry about the number of followers. The chances of getting a badge do not depend on the size of the audience.
The page does not have to represent a major brand or organization. The crucial factor is the registration and mention in the media.
The fact that you need to be mentioned in the media to verify your account does not oblige you to be a celebrity. It will be sufficient to have information on a news portal or in a magazine.
Thus, everyone can make a badge on Instagram, you just need to set a goal.
---
How do I get my own "verified" badge on Instagram?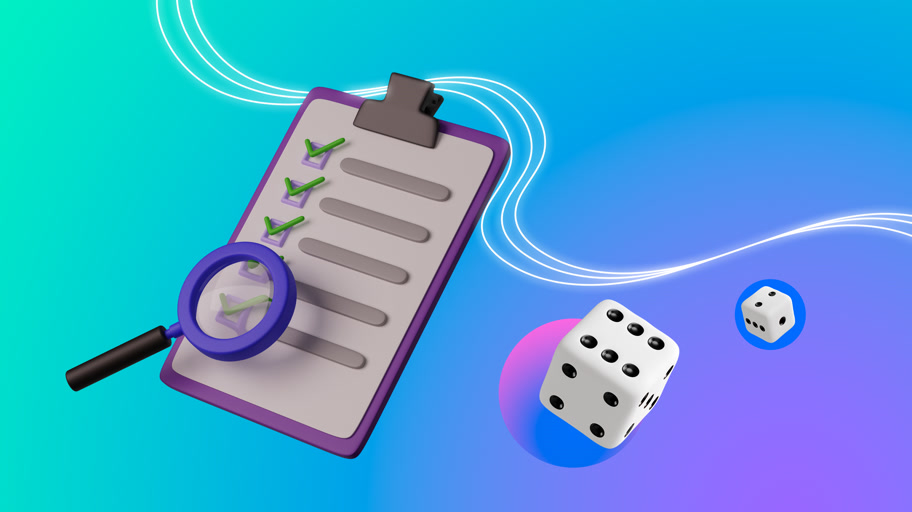 You can get a blue checkmark for free or paid. The fastest and most fair option is to apply through the official app. Instagram developers added this feature in 2018. Since then, every user can send a request and verify their account.
It's not hard to get a checkmark on Instagram. To do this, go to settings, select "Account" and then choose "Request verification". The system will then ask you to fill out a short questionnaire. You will need to specify your name, surname, nickname, and category and attach a photo of your passport or other identity documents. Submit your request and wait about a month for a response from the moderators.
Do not be upset if your account verification was denied. You can try to get a checkmark every other month, or you can use paid options to get a badge.
You can buy a checkmark in two ways. Let me tell you straight up, they're both unfair and banned by Instagram rules. You can take a risk if having a badge is very important to you. The first way is to buy it using a digital agency. The second is to buy it from the social network staff.
Regardless of how you got a checkmark on Instagram, there are two factors to keep in mind:
The platform does not want verified users to advertise the checkmark.
Verified accounts may only use their account name, biography, and profile picture to promote the services for which they were registered.
Violation of these and other community rules can lead to the revocation of the mark or getting banned on Instagram.
---
How do I increase my chances of getting a "verified" checkmark?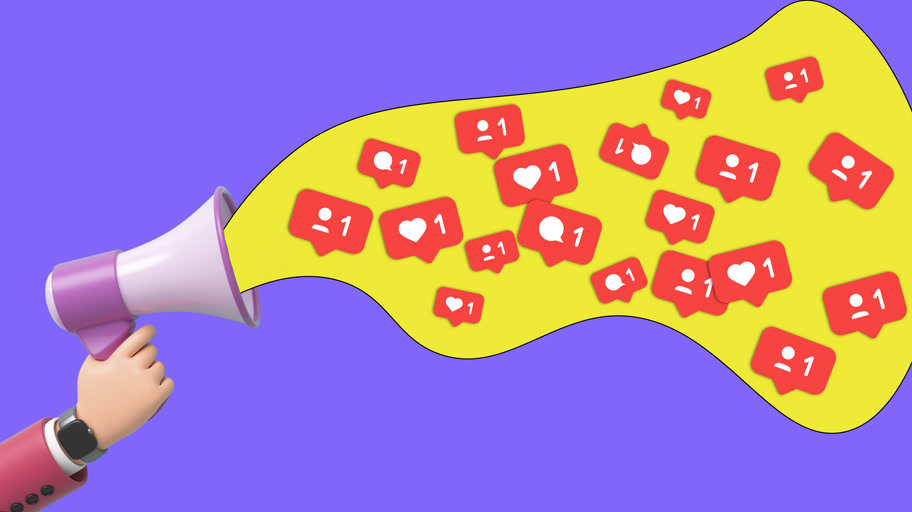 The basic requirements for verification were listed above. A complete list can be found in the Instagram help center. However, there are some tips to help you to increase the chances of getting a badge.
Follow the rules. It is important to do both before and after you receive your badge. You should be aware that any violation of the platform's policies and terms of use will hurt reviewing your request.
Always tell the truth. Do not lie when applying as moderators have the right to block the account for false and misleading information.
Check who is owning the profile. Your account must be registered to a real person, organization, or company.
Make your account public. Do not make it private. Moderators won't be able to verify your page if it is private.
Complete your profile. Fill in all the necessary information about yourself and provide your contact information. Make sure you have publications. The account should not look empty.
Keep posting regularly. The page needs to be active. Make a content plan and entertain your followers with new content. Try to stick to the same theme.
Remove links to other social networks. Rejection is guaranteed if the header of the profile contains a link to other social networks. Make sure you have the same profile name on all platforms.
Add a link to your website or link to the company website. Any additional information will be your advantage.
Actively post on other platforms. Whether you are an author or a representative of a company/organization, try to develop on several platforms.
Be a household word. Be active on the Internet. Make sure that the media talks and writes about you.
These simple rules will help you speed up the moment you receive the verified badge.
A "verified" badge can help you transmit more trust if you want to become an influencer
---
How do I transfer my badge from Facebook?
Do you have a verified Facebook account? Then you can easily transfer the checkmark to your Instagram account! You need to link the pages to do this. This can be done through the platform settings. If the badge does not appear, then check if your page meets all the requirements listed above. Contact support if you are sure, you have followed all the rules.
---
Frequently asked questions
Social media users often overestimate the importance of the badge. There are many true beliefs and myths surrounding it. We decided to answer the most popular questions about the checkmark on Instagram.
Does verification help you get into recommendations?
No. This only protects the account owner from copycats, but it does not affect the statistics in any way. You need to have a high rate of activity in the first hours after publication to get the post to the recommendations.
Does having a badge on Instagram affect the reach?
No. The platform algorithm automatically determines who will see your content. It depends only on your page management and followers' activity.
Can a profile with a badge be shadowbanned?
Yes. The badge does not protect against getting a shadowban. A verified account can be blocked or banned for any violation of community rules.
Check our article about Instagram bans for more information.

Are verified pages getting updates earlier than others?
No. Updates are released to all users at the same time. Depending on the operating system, some users may update earlier. For example, Apple users had the opportunity to test the dark theme before anyone else.
Can I get verified faster with Facebook?
There is no clear answer. Definitely, having a badge on Facebook makes it possible to get it on Instagram as well. You can try sending a request on Facebook, but in some cases, moderators are referred to a submission form on Instagram. It's worth a try in any case.
Now that you know all about checkmark on Instagram, it is time to figure out whether you need it or not. In fact, the badge does not give any benefit to an average user. It is a must for major pages because they often get copied by scammers and fans. Anyway, now you know how to get a badge.