In the fast-paced digital world we live in today, where video content has emerged as the absolute winner on social media platforms, TikTok has emerged as one of the most popular social media platforms, capturing the attention of millions worldwide.
While it's primarily known as a mobile app, there are numerous reasons why someone might want to explore how to use TikTok for PC. Whether it's for content creation, marketing, or simply the convenience of a larger screen, this guide will walk you through all the options available to make the most of TikTok on your computer.
Related post: using Instagram on the desktop computer like you do on your phone
TikTok for the PC using your web browser
TikTok, like any other of the major social media platforms, also offers a web version accessible through most web browsers.
You have a computer with a web browser no matter which one? Well, then you can access TikTok from it without more workarounds.
While accessing TikTok from the computer's browser has limitations compared to the mobile app, it's a convenient option for quick access without installing additional software.
Here's how to access TikTok on the web:
Open Your Browser: launch your preferred web browser on your PC.
Visit TikTok's Website: go to TikTok's official website (www.tiktok.com) and sign in with your TikTok account.
Use TikTok: you can now browse your feed, watch videos, and interact with TikTok users, similar to the mobile app.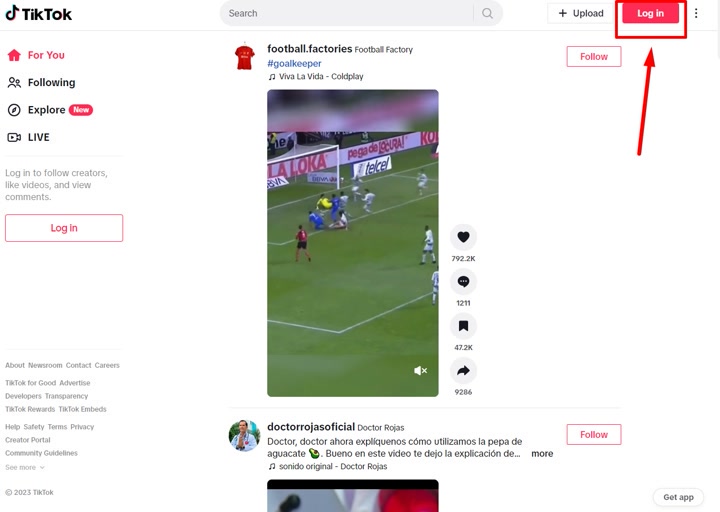 Welcome screen on TikTok for browsers with Login button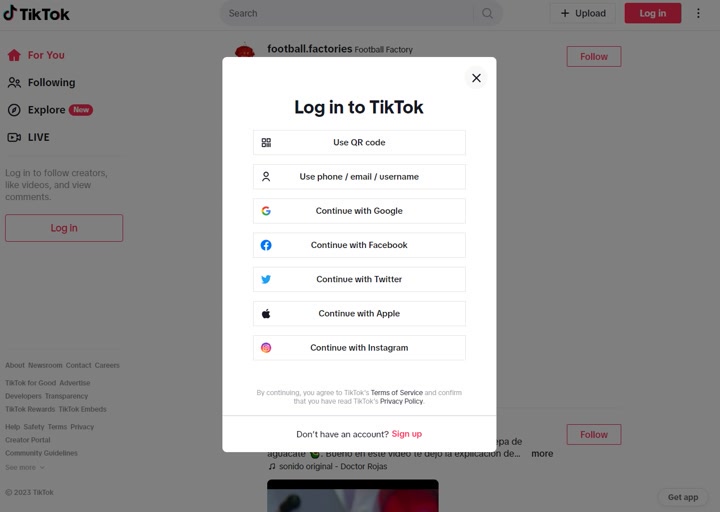 Login screen on TikTok for computer browsers
Pros and Cons of using TikTok through your web browser
Pros
Cons

Quick and easy to use method to access TikTok
Perfect for answering messages
You can upload previously edited pictures and videos

Can't use the built-in video editor from TikTok
You can't use TikTok's video filters and effects
---
Running TikTok on Your PC through an emulator
If you want to have a complete operational TikTok app on your PC, the only option available is using an Android Emulator.
Like its name suggests, an emulator emulates the environment of an Android phone, so will have a desktop where you will be able to operate like if you were inside a smartphone. That means that you can install Android apps like you would do on any Android phone. So yes: you can install TikTok inside your emulator and run the app through your PC.
The most common Android emulators are BlueStacks, NoxPlayer, and LDPlayer. However, the images and snapshots we are going to use for this article are from BlueStacks.
Android emulators create a virtual Android environment on your computer, allowing you to download and run TikTok, just as you would on a smartphone.
If you do not want to log-in into your Google account to download TikTok from Google's Play Store, you can download the app as an APK package from Uptodown.com.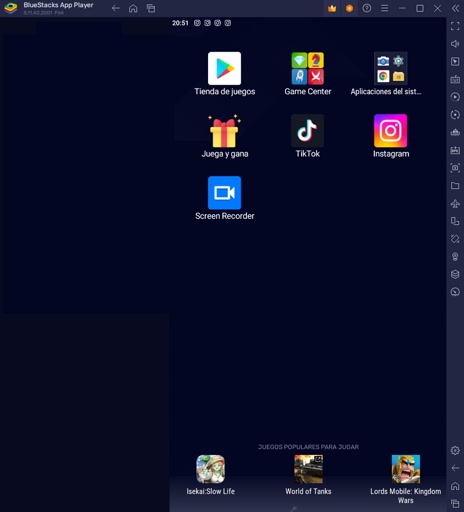 BlueStacks dashboard with TikTok, Instagram and a Screen Recorder app installed.
Here's how to get started:
Download your desired Emulator: select and download your preferred Android emulator from their respective official websites. We like to use BlueStacks, but any other one will work too.
Install the Emulator: after downloading, run the installer like you would do for installing any kind of software and follow the on-screen instructions.
Set Up Google Play Store: open the emulator and set up the Google Play Store with your Google account.

Remember that optionally, BlueStacks allows you to run your Android emulator without having to login into your Google account.
You will not have access to Google Play Store to download the apps, but you can download the installation package from a third party website like Uptodown.com

Install TikTok: Search for TikTok in the Play Store, then install and launch the app.
Optional: if you didn't login in your Google's account through your PC, then you won't have access to the Play Store.

Download TikTok's apk (Android installation package) from Uptodown.com
To install the .APK file from TikTok on BlueStacks simply drag and drop the .APK file into BlueStacks' dashboard and the emulator will install it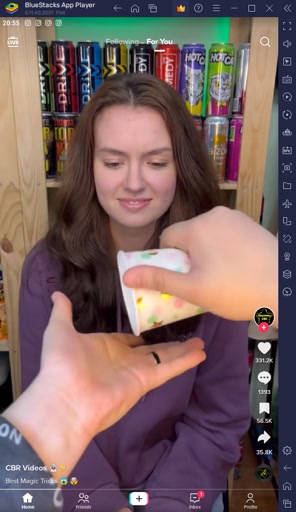 TikTok running inside BlueStacks. As you can see, it looks and behaves exactly like it does in your smartphone.
Using an emulator provides a seamless TikTok experience on your PC, enabling you to create and view content effortlessly and allows you tu use your computer's keyboard and mouse to move in a more comfortable way.
Important: how to import content from your PC into the emulator
Once you have TikTok's app up & running you will probably want to know how to start uploading content there.
You will notice that the TikTok installation you have inside BlueStacks does not have any content inside the gallery: no images, no videos, nothing for you to upload into your TikTok's account.
So how do you get the content you edited inside your computer using third party image and video editors into the emulator? Simple: drag and drop it. After doing so the content you imported into the emulator will be available inside the Gallery from the emulated Android environment.
Also the TikTok app will detect the content imported into the emulator and you will be able to upload it into your TikTok account. Easy.
Pros and Cons of using TikTok through an Android emulator
Pros
Cons

You will have a fully functional environment and app like on the phone
It's more comfortable than operating on the phone, specially if you spend a lot of hours in the app
You can use your mouse to click on elements and scroll through the feed

Takes some time to set up the environment
An emulator is a resource-intensive software, so on older PC's performance may suffer.
---
Using TikTok through its Windows app
TikTok has also released an official Windows app that provides a native TikTok experience on your PC.
While it offers more functionality than the web version, it still lacks certain features compared to the mobile app.
TikTok app on the Microsoft Store
Here's how to use the TikTok Windows app:
Download the App: Search for "TikTok" in the Microsoft Store and download the official Windows app.
Install and sign in: Install the app and sign in using your TikTok account credentials.
Explore TikTok: You can now explore TikTok, watch videos, and engage with content creators directly from your PC.
While the Windows app offers an enhanced experience, it's essential to note that content creation options are somewhat limited compared to the mobile app.
What options do you have to use TikTok on an Apple Mac?
TikTok is not available yet for Mac computers as an independent app like on Windows, so in this case you have two options:
Use an emulator like we have seen in the previous step
Install a PWA (extension) on Google Chrome or Edge on your Mac (on Safari won't work).

To do that visit tiktok.com and on the address bar click on the + icon to install the PWA (extension).
From now on you will be able to use TikTok through your Mac using commands to scroll through the videos.
Pros and Cons of using TikTok through Windows/Mac app
| | |
| --- | --- |
| Pros | Cons |
| Integrated app that works independently from the web browser | Has alsmost the same limitations like using TikTok through the browser |
---
Third-party apps and websites: explore alternatives and risks
Apart from the official options, there are third-party apps and websites that claim to offer TikTok access on your PC. However, these alternatives are website looking for your click and often come with security risks.
Some risks associated with these options are:
Access to personal data
Having to install unwanted software on your computer
Security risks
We discourage the use of these platforms and recommend to use only verified software and apps. Proceed with caution and consider the potential consequences before using such services, and if you just want full access to TikTok through your computer, setup an emulator like described above.
---
Security tips for using TikTok on a PC effectively
When using TikTok on a computer you may consider following these tips and security advices:
Ensure your PC is secure, password protected, and your TikTok account information is safe.
Use strong passwords and consider enabling two-factor authentication when using TikTok on a PC, specially if the account is shared among different social media managers.
Have a backup of the content you have created in the PC for TikTok and haven't uploaded yet: if your computer breaks down it will be lost.
Do not rely on the computer for everything: important notifications won't be seen while the computer is off.
In conclusion, using TikTok on a PC offers various options to suit your preferences and needs. Whether you choose to use an emulator, explore the web version, or install the Windows app or Mac extension, you can definitely enjoy the world of TikTok on a larger screen.
Remember to prioritize security and adhere to TikTok's guidelines for a safe and enjoyable experience.