Laika is an online pet products store with the largest range of products and services in all of Mexico. More than 4,000 products and services from more than 100 different brands are presented. You can find products from the super premium brand, as well as the most economical options. The company is also actively involved in charity work and helps to find new owners for homeless animals.

Service benefits:
1. Own delivery service, which allows you to deliver the same day.
2. Convenient payment methods: when placing an order or upon receipt, by card or cash.
3. Professional veterinary services: virtual and home medical care, face-to-face and virtual consultations, deworming, vaccination.
4. Specialized section of a veterinary pharmacy: medicines, vitamins, protection against fleas and ticks, anti-inflammatory drugs and much more.
5. There are collections of verified places and services for animals: hotels and restaurants where they accept pets, contacts of pet walking services, etc.
Goals and objectives
The main task facing DRIM was to attract new customers to the Laika service. During the campaign, we had to show people that ordering pet products online from Laika is convenient (no need to go anywhere), safe and comfortable (which pet owner is not tired of carrying heavy packages of dog food or cat litter?)
Target audience we considered:
a) age 25-54 years
b) gender - generally equally (because both men and women equally own pets and love pets)
c) User profiles:
- People who have pets but don't have time to go to pet stores. Appreciate convenience, so they want to quickly buy accessories and food with home delivery;
- Families with frequently ill pets. Most often, these are expensive breeds of cats and dogs. Want to order online the right drug or special food;
- People who love animals and want to help them are happy to participate in charity events. Buy goods for their pets in stores sponsored by animal charities;
- People who breed animals. It is actual to order in large packs online so as not to waste time on this;
- Future pet owners. They are already actively viewing ads "in good hands" and have decided who they want to get. In the near future will buy the whole set for a new family member;
- People who temporarily sheltered the animal. They are engaged in rescue, nursing or overexposure. Looking for quality pet products at affordable prices.
Which bloggers were attracted
At the start of the campaign, at first we attracted micro-influencers mainly from Instagram and Tiktok, as well as a few from YouTube, the main topics are animals (i.e. pet owners, as well as those who are professionally engaged in breeding, training, treating pets), lifestyle ( mostly with own pets. The geography of bloggers was focused on 3 major cities in Mexico - Mexico City, Guadalajara and Monterrey, where the service has its own delivery. There are small bloggers, in our experience, who often bring good sales, because they have a high audience engagement, present information natively, and have a trusting relationship with their subscribers.
In the future, our analytics adjusted the topics. Within the platform, we have developed a system that collects extensive information about each blogger. We can see their performance on related topics and projects, audience coverage and responses in each social network where he maintains a page. This analytics is deeper than the market average: agencies usually only take into account the number of clicks and likes a blogger has.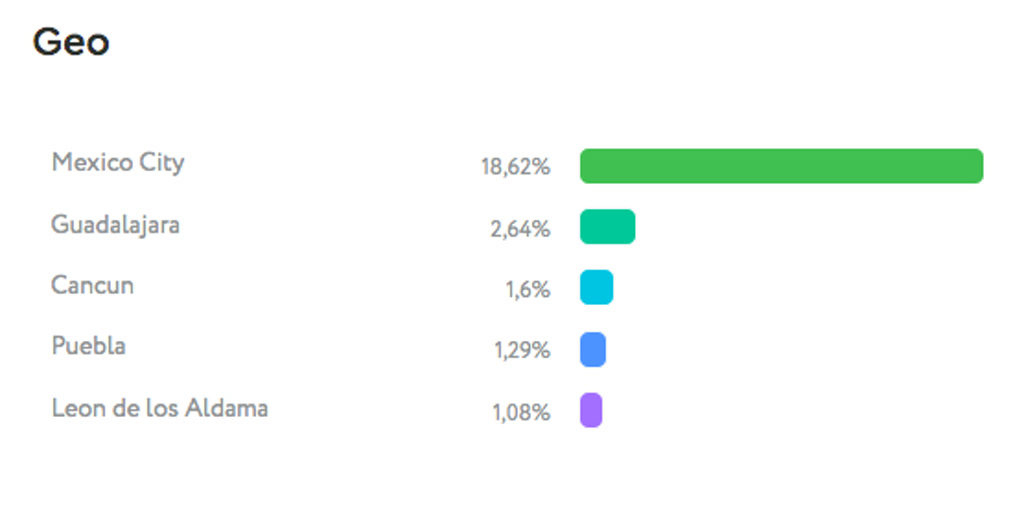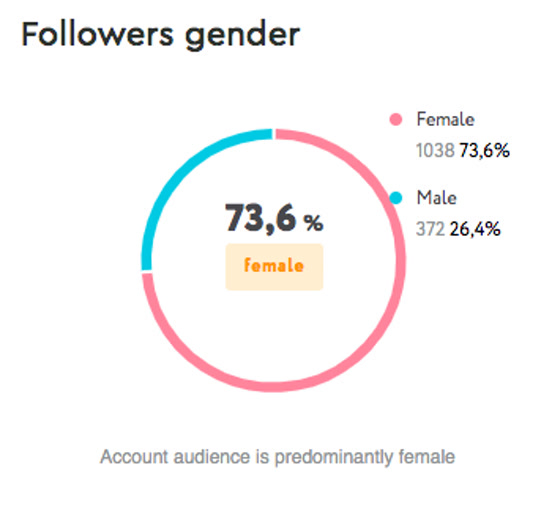 Our system allows you to predict the result of attracting a specific influencer. In addition, it can determine which bloggers from which cities and in which social networks will give the best effect. Also, our system automatically looks for influencers that are similar to those that are already effective.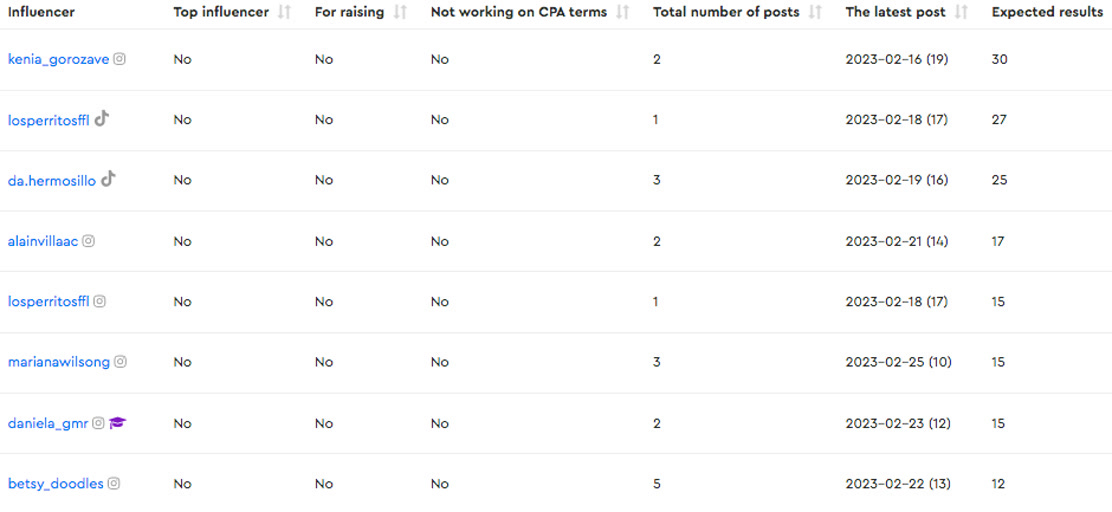 Therefore, over time, we expanded social networks, did not limit ourselves to Instagram and Tiktok, but made bets on Twitter and Facebook. They also expanded the topics, began to publish with influencers on various topics - life hacks, reviews and guides, care and cosmetics, photography and video shooting, software and health, humor and entertainment, travel, etc.
What bloggers broadcast to subscribers
Influencers in their publications said that ordering pet products from Laika is convenient, fast and profitable. They were happy to involve their pets in the shooting, create creative videos, almost real detective stories).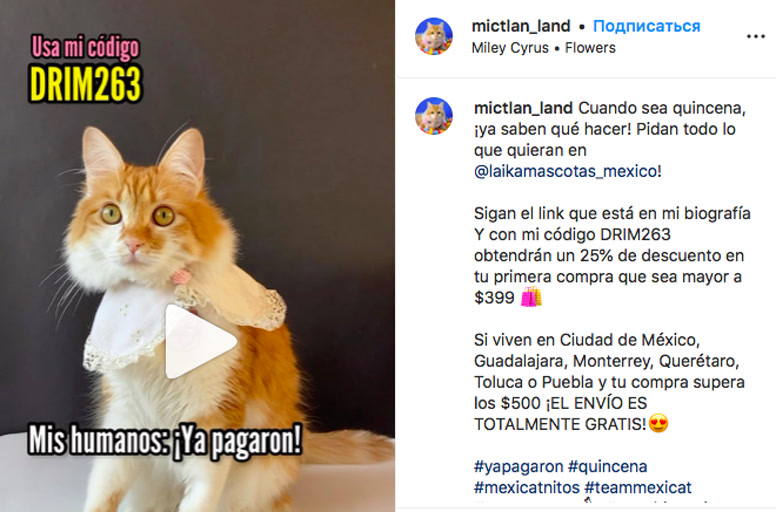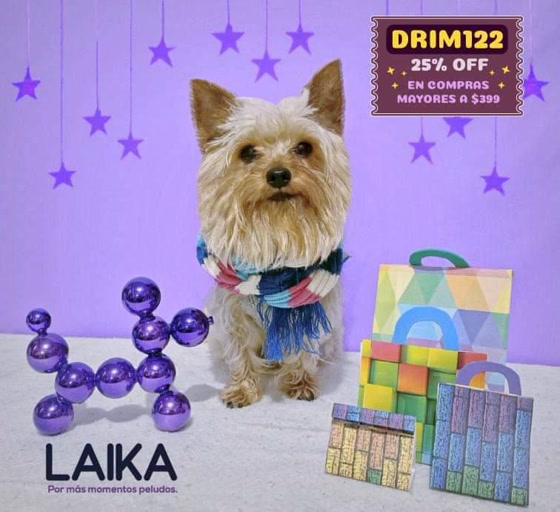 1. https://drive.google.com/file/d/1tzIQ1jSZSiNj749Xr...
https://www.instagram.com/reel/CoYBauZJqvd/
2. https://drive.google.com/file/d/1UhvUpwk-xg-u5e1-C...
https://fb.watch/iC0b3Fmfay/?mibextid=v7YzmG
3. https://drive.google.com/file/d/1QpulqGBxOFzYcMobA...
https://www.tiktok.com/@mishayceniza/video/7170123...
The bloggers also unpacked the order, showed how to use the Laika website and app, how to quickly place an order, and how to use a promo code to get a discount.
https://drive.google.com/file/d/1WZxyOy23LWZMaiw1i...
https://vm.tiktok.com/ZMYaSP38L/
In general, the personal serve has always worked well. For example, a blogger shared his story (that the cat ran out of food, or that the range of pet products in convenience stores leaves much to be desired, or that he was tired of carrying heavy packages to the 5th floor), showed how he makes an order in Laika and arranges delivery .
https://drive.google.com/file/d/1ej33ASSTMQEEGeJJm...
https://www.instagram.com/reel/CosbieIvrsF/
Tools Used
During the campaign, repeated changes were proposed by our platform to improve the results of the project. We have already talked about the expansion of social networks and topics, let's focus on other tools.
1. Work model
At the start of the campaign, for the first 2 months we worked only on the CD - buying a new client, but we understood that for better results we needed repeated publications from bloggers. Then we came to the ideal solution - we expanded the CSD of the campaign, in addition to buying a new client, we added a new CSD - pay per click (PPC). Paying for clicks helps bloggers earn even from the first publications, which motivates them to make the next post, the effectiveness of which is higher, as our analytics show.
Thus, we killed two birds with one stone:
increased the number of new customers for the service by increasing the number of bloggers attracted and publications from each of them. For example, in 2 months (October-November), 127 new bloggers were attracted to the campaign, who made 182 publications, and in the next 2 months, when pay-per-clicks were already added (December-January), 219 new bloggers were attracted (for 72 % more), who made 438 publications.
got bloggers interested in the fact that in addition to paying for a new client, they can get paid for clicks, which encouraged them to publish more. Thus, bloggers have become brand ambassadors on a regular basis without a significant increase in costs. Speaking in numbers, in October-November, out of 127 bloggers, 43% made more than 1 publication, and in December-January, out of 219 bloggers, 50% already made more than one publication.
The graph shows that:
the increase in publications and orders has been going on since December, it was then that the second CD was added to the project - pay per click
after December (when the campaign was optimized), there are fewer clicks and costs, and more orders
2. Improving the conditions of promo codes
We had a hypothesis that increasing the size of the discount would attract more customers. Bloggers first offered a 25% discount, then the client and I increased it to 30% for the weekend. Unfortunately, it was too short a period and we did not have time to cover a large pool of bloggers for publication, for this reason there was no increase in orders. It is better to test such theories over a longer period of time, because our practice shows that even a slight increase in the discount can give a 2-3 times increase in conversion.
3. Integration with client dash
Another of our hypotheses was that we need to see the full picture with orders in order to get the right data for analytics and improve campaign results. We always explain to clients that we need regular statistics from them:
for up-to-date analytics, according to which we optimize the campaign daily
for quick decision-making by bloggers about re-publishing.
After several months of work, we offered the client to integrate with their system, and in January this happened. Our team was able to receive first-hand and real-time order data, which increased the results of the project many times due to the fact that:
bloggers began to receive information about their results weekly according to the schedule
bloggers became more willing to re-post, as the platform now showed them their earnings in a timely manner, like clockwork
the number of controversial situations when bloggers doubted the results decreased, each case was worked out individually with an influencer.
Thanks to the integration, we corrected the selection of bloggers: we saw whose posts did not bring the desired result, and refused to cooperate with their authors. And with the most effective ones, on the contrary, they made repeated publications in order to push the audience into the sales funnel.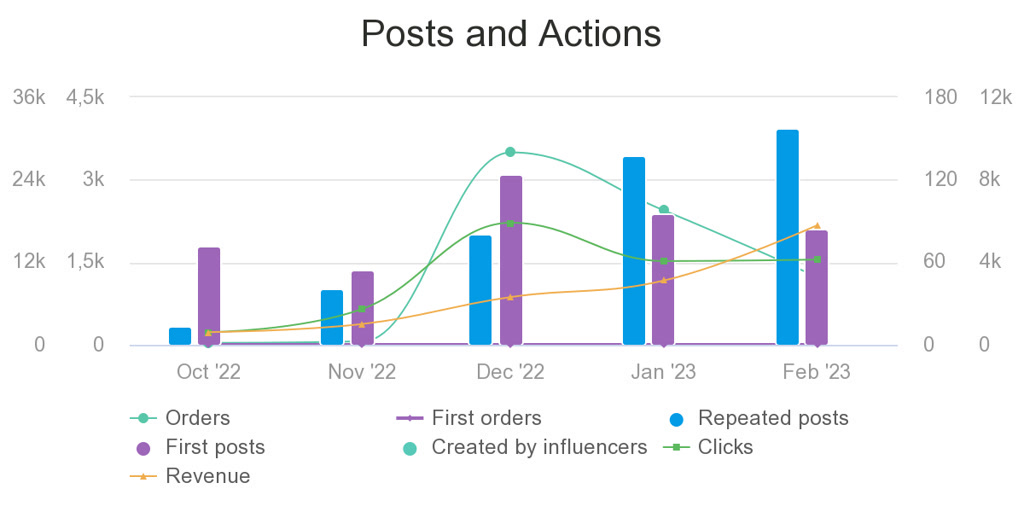 The graph shows that since January there has been an increase in the number of publications, which continues in February.
Features of working with Laika
For the campaign to be successful, it is important to gain the support and trust of the client. In the case of Laika service, this was exactly the case. Our bloggers received unique conditions for their subscribers - a 25% discount on the first order.
We appreciate that the client was not afraid to experiment and constantly gave us feedback. Also, all changes in the campaign (expansion of social networks and topics, changing the work model, testing new promotional codes, integration with the client's dash) always resonated with the client, discussed openly and to the point.
A joint discussion of the course of the campaign does not happen with every client: not everyone is ready to spend time on this. We are glad that we had a fruitful cooperation with Laika, in which each party was interested. This was reflected in the results of the campaign. Despite the fact that the main work lies on our platform: search for bloggers, communication and negotiations, payments, etc., and for the client, for our part, we provide monthly post-campaigns with a brief but detailed report, as well as suggestions for optimization.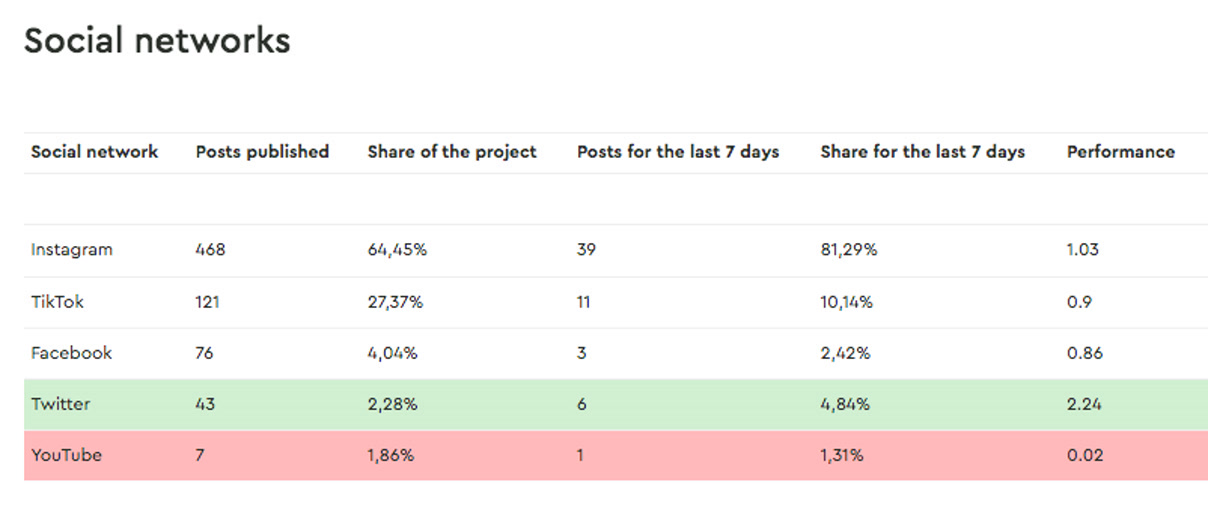 Results
*Performance - the number of results per 1 thousand blogger subscribers
During the 5 months of the project (October 22-February 23), bloggers posted 863 publications in various social networks, which brought 591 new customers to the Laika service; the approximate coverage of publications is almost 16 million people.
Most of the posts were published on Instagram - almost 500 (64.5%) and it showed good performance - 1.03. The most effective social network was Twitter - 43 posts (2.3%), which showed the highest performance - 2.24.
In January, thanks to the work with bloggers, the service received 126 new customers, and in February - 294, which was an increase of 233%! Those. we're seeing amazing growth, which is a great indicator that we're moving in the right direction.
Roberto Striedinger Cardona, Head of User Acquisition:
Finding the most optimal acquisition cost and finding a better type of customer is the mission of every startup, and it is what we are doing with the crowd marketing channel and our influencers. DRIM has been an incredible ally in this model, especially Finding influencers who are willing to work under CPA models in Mexico.
Project team:
Kate Komleva, Head of Latam
Dinara Razdykova, Head of Scouts
Valeria Figueroa, Senior Scout
Olga Rubinchik, Head of Accounting
Emanuelle Perez, Head of Sales