If you're an avid Instagram user, you've probably heard of Instagram Reels, nothing new we can tell you about. These short, entertaining videos have taken the social media world by storm, and it's no wonder why: with just a few taps, you can create, share, and watch a very creative and addictive type of content around tenths of thousands of different topics.
Instagram created the Reels to compete with the boom of the video format that was making TikTok the revolution inside the social media business.
Reels are easy to watch and create, but what if you want to save a Reel to watch later or share with your friends through WhatsApp or Telegram? To download Instagram Reels, all you need to do is follow a few simple steps and you have different options to do it.
In this article, we'll explore everything you need to know about downloading Instagram Reels and more. Let's get started.
---
What is an Instagram Reel?
Reels are a short form of video content that allows you to showcase whatever you want in an entertaining and engaging way.
Essentially, Reels are videos that can last a maximum of 90 seconds and that can be edited with music, filters and effects right within the Instagram app.
When you upload Reels to your profile, they are stored in a specific tab inside the app, the Reels tab, at the moment (April 2023) located between the "Posts" and the "Tagged" tabs.
---
How do you create an Instagram Reel?
Creating a Reel is simple but gives you a ton of options to boost your creativity. Here we are just going to give you a quick description about how to do it and not an extensive tutorial around how to create Reels on Instagram.
To create a Reel open the Instagram app and click on the + button to add content. There you will find a few options, including Posts, Story, Reel and Live. Navigate to the Reels tab. You can also access this swiping right on the feed or through the + button in the Top left.
Editing a Reel before publishing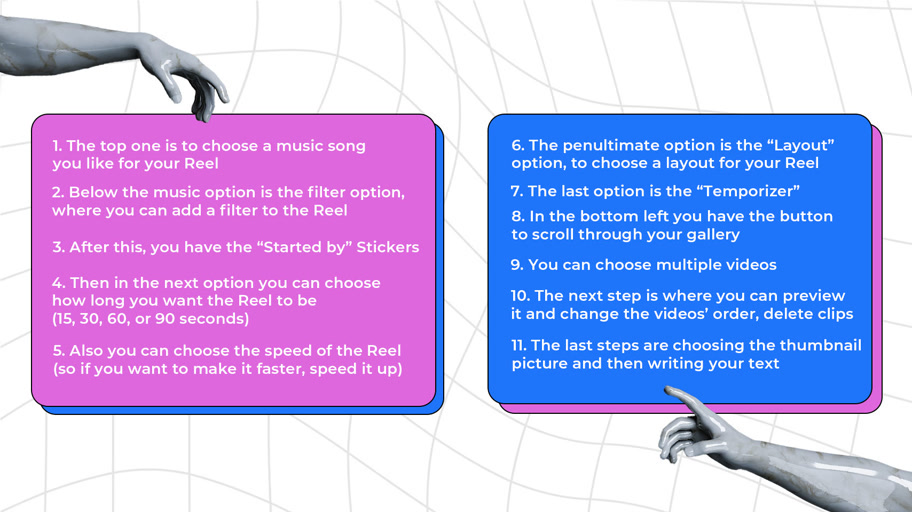 To create a Reel, you can record a video there using the Instagram app or use videos that you already have on your phone.
The edition of a Reel gives you a ton of options to boost your creativity. Those are the options that you can find on the left side of the screen.
Those options are:
The top one is to choose a music song you like for your Reel. Tap there and you have access to the library where you can choose which song you want to use
Below the music option is the filter option, where you can add a filter to the Reel. This option is also available by swiping left in the bottom of the screen.
After this, you have the "Started by" Stickers
Then in the next option you can choose how long you want the Reel to be (15, 30, 60, or 90 seconds)
Also you can choose the speed of the Reel (so if you want to make it faster, speed it up)
The penultimate option is the "Layout" option, to choose a layout for your Reel (and for example adding multiple videos at once)
The last option is the "Temporizer" so in case you are recording a video from there, you can set a delay on when the phone will start recording (so you can get ready)
In the bottom left you have the button to scroll through your gallery and choose the videos you already have on your phone.

You can choose multiple videos and use just parts of each of them, till the limit of time you set in the options mentioned above (15, 30, 60, or 90 seconds). Note that you do not reach the time limit you set, that's the length that the Reel will have.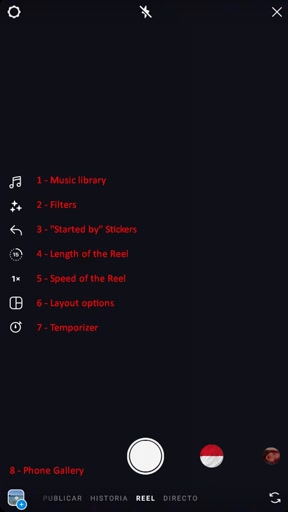 The next step is where you can preview it and change the videos' order, delete clips and make some small changes.
The last steps are choosing the thumbnail picture and then writing your text. If you are happy with the result you can select "Publish".
---
How to save the Reels you like into your Instagram account
You just loved an Instagram Reel you saw? Then you'll love the 'Save ' feature! Simply open the Reel, tap the three dots on the right bottom corner and select "Save" to save it to your account. You can even create different collections to categorize your saved Reels and Posts – 'Funny', 'Inspirational', or 'Travel', for instance – so you can quickly locate the content you saved.
---
How to download your own Instagram Reels into your phone
You want to download an Instagram Reel you created to share it as a video? Instagram app allows you to do so in a few steps:
Open the Reel you want save
Tap on the three buttons on the bottom right corner
Select "Download"
The video will be saved into your phone's gallery
From your gallery you can share it as a normal video file through any messaging app you might be using.
---
How to download other accounts' Instagram Reels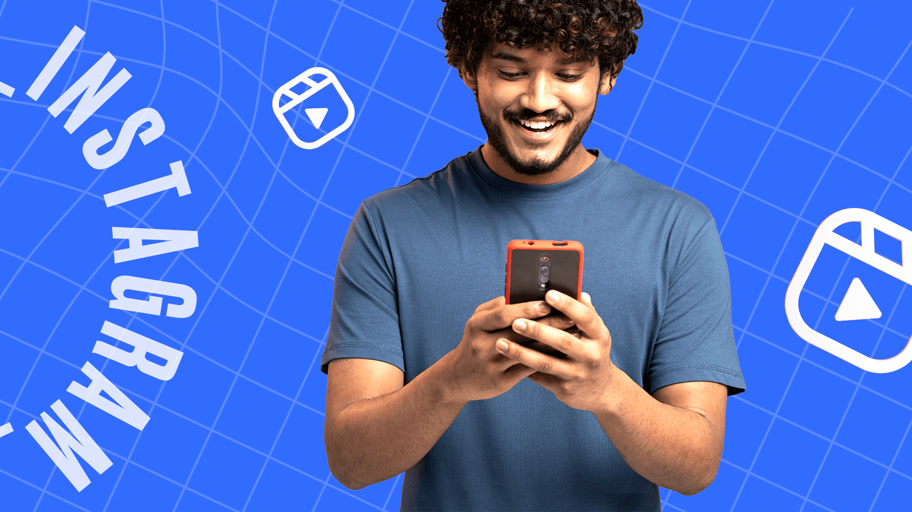 To obtain Instagram Reels from other accounts, a third-party app or website is necessary. In other words: the option of "Save to Camera Roll" is not available for Reels that were not created by you on Instagram. Here we give you some options you may want to use to save any Instagram Reel into your phone as a video.
Use a screen recording app
For a simpler approach, a screen recording app may be useful. This feature allows users to save a video of the Reels playing directly on their device's screen. Although this method may not give extreme quality, and the icons of the app will still appear and the video obtained will clearly look like it is a screen recording, it is a speedy option to save media for personal use.
For Android you might have to use a third-party app, like InShot or AZ Screen Recorder, but some Android phones might have this as a feature by default.
On iPhone you have an integrated screen recording app/option that you can add on the main screen going to Settings > Control Center > Customize Controls and adding the Screen Recorder to the Assistive Touch.
When you are ready to record your screen just open the Reel you want to save and simply record the screen. The video will be saved into your gallery.
Use a Instagram Reels downloading app
App developers know about the limitations of Instagram when it comes to downloading Reels from other users, so there are a few applications created to solve this bottleneck.
Some of them are:
Download a Instagram Reel Downloading app and following the instructions there. Easy-peasy.
Use a Telegram bot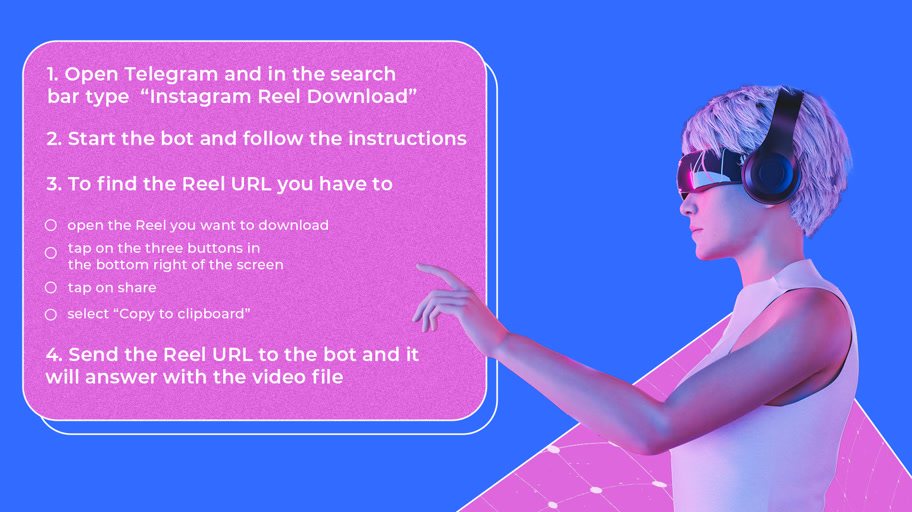 Telegram is much more than a messaging app, but a whole environment with multiple tools and communication channels.
One of the tools available on Telegram that can save you a ton of time are bots. You can find bots (robots coded by developers) that can do anything you can imagine: file converting, creating disposable email addresses, translation of content, extracting the audio from a video… and also bots to download Instagram Reels.
To download a Reel through a Telegram bot follow these steps:
Open Telegram and in the search bar type "Instagram Reel Download" or "Instagram Video Download" or "Download Video" to find a list of bots that do this function
Start the bot and follow the instructions, but usually it's easy: just paste the Reel URL in the chat.
To find the Reel URL you have to

open the Reel you want to download
tap on the three buttons in the bottom right of the screen
tap on share
select "Copy to clipboard"

Send the Reel URL to the bot and it will answer with the video file.
Check the following snapshot about how easy is to download a Instagram Reel using Telegram: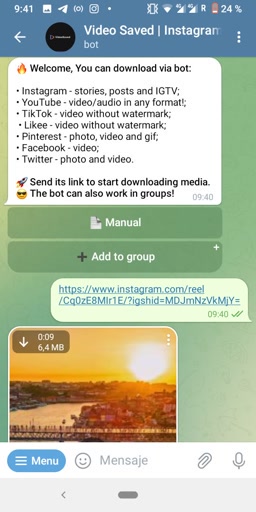 In general, with Telegram bots is about pasting the Reel URL in the bot chat and the bot will answer with the reel in video format so you can download it to your phone.

At the time of writing this article we found two bots for downloading Instagram Reels, that are completely free and 100% operative.
---
To sum-up: credit the authors!
As you can see it's easy to download Instagram Reels from any Instagram account, even if Instagram does not give you this option by default. However, it is important to remember that you should respect the original creator's content and not share or repost without authorization or without crediting, as this breaches Instagram's terms of service and you can end up with an Instagram ban.