An insight into what makes topmost CMOs tick, and the secret sauce of building an innovative Performance Marketing Channel - Micro Influencers on CPA model.
With an aim to facilitate fiery discussions and exchanging of cases, learnings and insights into the future trends in influencer marketing, DRIM Global brought together the market leaders in D2C segments and gurus of marketing from brands such as:
Flipkart, Swiggy, TATA Neu, Himalaya, Titan, Jiomart, Health & Glow, Standard Chartered, Nykaa, TATA Consumer Products, Tanishq, the LULU group, Bewakoof Pvt Ltd, Skechers, Meesho, Chai Point, Anveya Living, Licious, H & M, Games 24*7, Simplilearn, GIVA Fine silver jewellery and several more.

Wouldn't you like to know what's on the minds of CMO's, what are their opinions about the influencer marketing realm today, what are the problems they face and how do they solve it, what are their hopes and fears, and what do they dream of achieving? Read on!
Upcoming trends for 2024 uncovered at DRIM CosmoFest:
The event started with the fireside chat session 'The Force Multiplier: Digital Marketing & Human Connection' with AmitKumar Banka, Head of Growth Marketing, User Acquisition & Retention, Product Initiative at Swiggy, and Yulia Aslamova, Head of Asia at DRIM.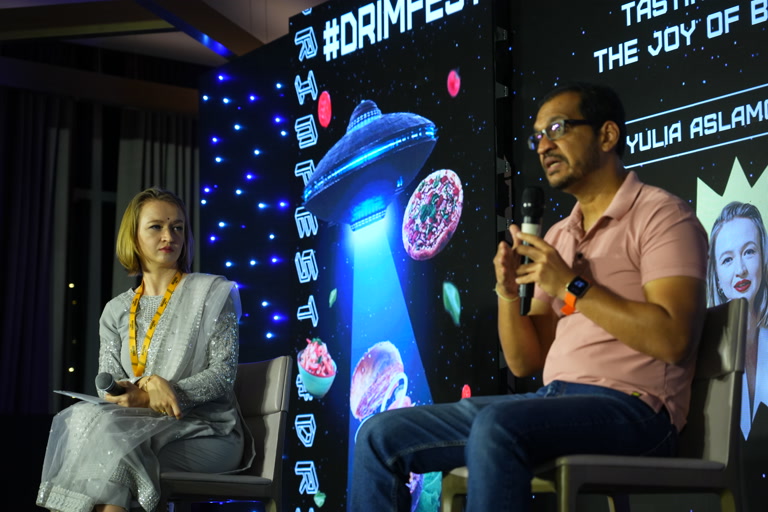 Amitkumar and Yulia addressed some thoughtful questions put forward by members of the audience who were eager to tap into the wealth of knowledge presented in the discussion. Invitees were able to ask questions relating to their own challenges in their business, and gain solutions and helpful insight from Amitkumar.

Some key takeaways from the session
Swiggy experiments from their long experience of working with social media micro influencers on the CPA model:

India being a discount heavy geo, brands need to use the human connection and consider the emotional nature of humans to be able to form that connection with the brand.

Build trust with content creators, and take necessary steps to uphold their creativity while engaging them for brand promotion using their social media.

Give creators guidelines that will be mindful of brand image, and autonomy to create their content.
Brands need to evaluate and cut down on inefficient channels that do not bring ROI.

In case of off-platform content, brands can trust agencies like DRIM to ensure that content creators are selected, keeping the brand's campaign objectives in mind. Agencies also see to it that creators follow the guidelines that the brand needs them to be mindful of, while upholding their freedom to use their creativity.

Swiggy initially used mega celebrities to build the brand and then started using micro influencers to reach the last circle of influence and make use of the personal connection micro influencers have with their followers.

People aspire to become like mega influencers, but identify with micro influencers of the kind that DRIM works with, because they are more like the followers themselves.

AI does have a novel effect on influencer marketing, but cannot replace authentic touch that content creators can add to their content and the relevant reach they gain due to the relatability factor.
---
DRIM ConQuest: identify your winning Influencer strategies
The interactive DRIM ConQuest with Anwesha Sarker, Head of Growth at DRIM, was an enlightening session in which we bust some myths about influencer marketing and the CPA model.
Want to check your readiness to work with micro influencers on the CPA model? Solve DRIM ConQuest
here
to know your score!


Some of the key points that shone through are:

Micro influencers are more effective than celebrities due to their penetrative reach and personal connection with their followers, the relatability factor and much better engagement rates.Influencers are able to drive target actions when they can offer a better deal to their followers to encourage purchases.
Influencers do earn well using the CPA method. DRIM's expertise in delivering results through this model ensures influencers earn a good income without an upper ceiling, and brands benefit from complete transparency and measurability to account for their budget allocation. With DRIM, it's a Win-Win for all!
The standard industry engagement rate for FoodTech projects is only 2%. But DRIM achieves the unthinkable and has an award winning case study for achieving an engagement rate of a whopping 30% for its influencer campaigns on Cost Per Order Payout. We are the BEST solution for making influencers your performance marketing channel!
Achieving virality is not left to chance. Understanding the science of virality makes it possible for DRIM to train influencers and to continuously optimise campaigns with data analysis and feedback from ML.
Content posted by influencers need not have the glam quotient. Relatability is proven to be the factor that matters, and performance is the deliverable that we are committed to.
It is possible to predict which influencers will bring conversions. This need not be left to chance. DRIM's data-driven approach enables sound decision making that leaves no room for guesswork.
E-commerce brands need at least 4 - 17 publications from top performing influencers to achieve maximum results and create recall value.
It is POSSIBLE to slot micro influencers with fake followers, and to weed out such influencers using a two step, fool proof system. The in-built fraud detection system in DRIM's analytical platform, along with the discerning eye and personal attention of our highly trained scouts ensures that fake followers and bots do not even make the first cut when influencers are selected for any campaign.
It is a myth that for top of the funnel objective we only have to opt for Cost Per Publication format. We can also work with CPC, CPI, Cost per Registration.
It is a myth that influencers will definitely charge something for content. We work on the CPA model with hundreds of influencers who are perfectly convinced about how earning using the CPA method makes more sense than charging a one time fixed fee for content creation and publication.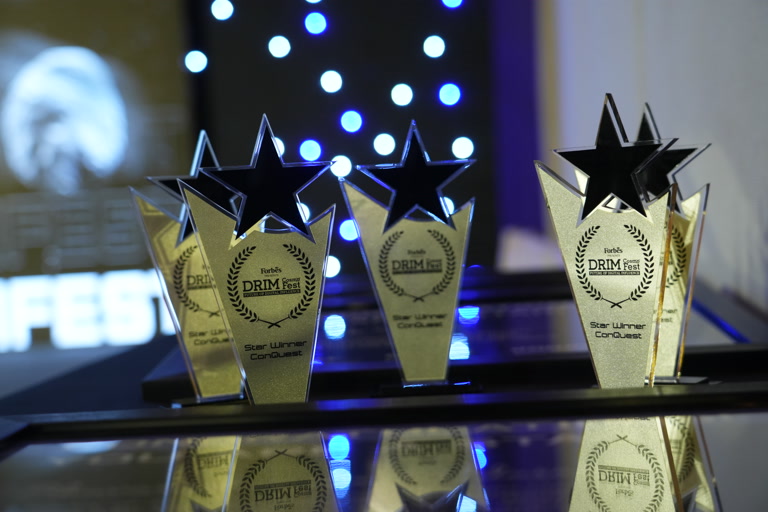 The winners of the quiz - Bhuvan, Manik, Aaditya Sain, Prerak Goel and Vaibhavi were presented with trophies for their enthusiastic participation and engagement.

---
Driving Brand Growth - The creator's perspective
The quiz was followed by a fireside chat with Anna Morozova, Head of Affiliates at DRIM, and some of the top converting influencers associated with DRIM - Divyanshi Singh of @foodophile23, Vaibhavi and Vaishnavi of @thakursistersofficial and Aditi of @foodbook_by_aditi. They discussed 'The Power of Star Creators: Accelerating Brand Growth'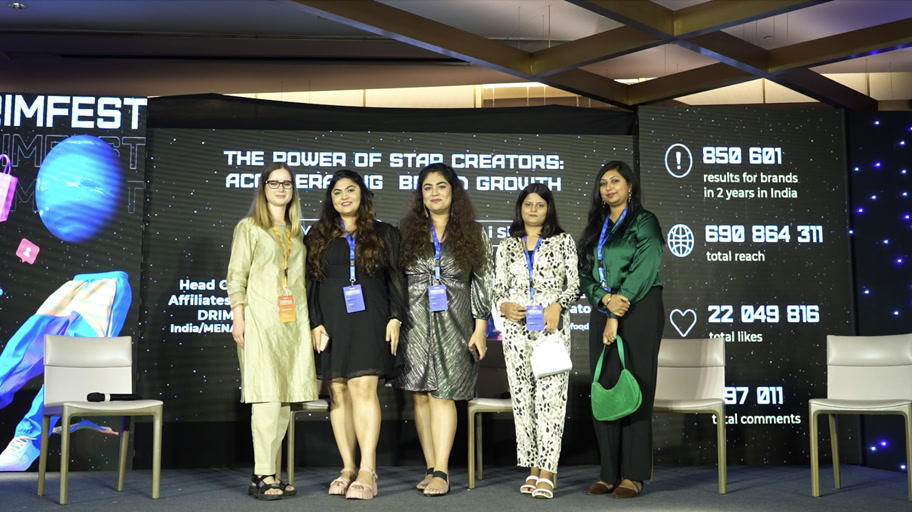 Key takeaways from the chat:Influencer Marketing Strategies - The experts perspective
The top influencers agreed unanimously that DRIM's CPA Model brings them followers and earnings, both. Using the Cost Per Action model for earning means that the income is not capped.
DRIM's dynamic dashboard gives creators insights into their page analytics so that they can work on their content reach and other important metrics accordingly.
Working with leading brands through DRIM helps influencers gain higher reach and increase their credibility amongst followers.
Association with big brands helps influencers improve the quality of the content to match the brand's image.
The top creators found the CPA model very beneficial in terms of earning and for keeping their content fresh and intriguing.
The creators unanimously agreed that the top three criteria for selecting projects on the DRIM platform was:

the relevance of the project topic to their blog content,

the income they can earn from the project, and

the value gained from the association with top brands.

The geo of the project mattered too, and pan India projects were more preferred.
Keeping the offers for followers unique and personalised helps content relatable for the followers of these micro influencers.
Content creators were happy that with DRIM, approvals for publications come through quickly, so they are able to publish created content on the same day.
---
Learning from the experts - Influencer Marketing Strategies uncovered by Marketing Gurus
The highlight of the evening was the valuable panel discussion on 'Evaluating e- commerce experience with digital influence' uncovered several aspects of influencer marketing strategies from the perspective of the panellists who are all marketing stars in their own right.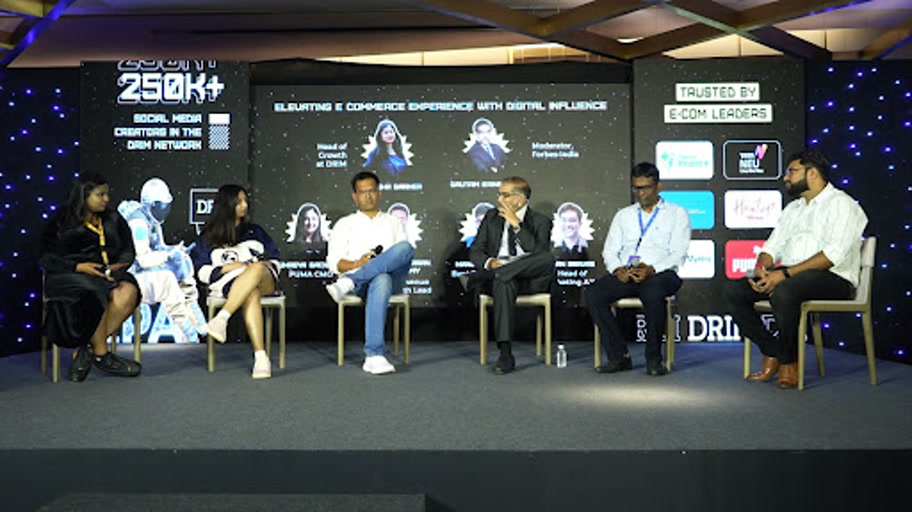 Shreya Sachdev, CMO at PUMA India, talked about trend spotting and how indispensable influencer marketing has become for brands. Influencer marketing goes way beyond just top of the funnel now, and brands use them for building credibility, bringing conversions and even in retention.
Shreya talked about how influencer marketing can be an important touchpoint in a series of touchpoints that ultimately results in conversions, and isolating it to calculate ROI may not be the best approach to know the true impact of an influencer marketing campaign.

With the advent of technology and being able to track end to end activity, brands can now use influencer marketing to work across the funnel.
Influencer marketing campaigns helped PUMA with new cohort acquisition and with reaching consumer segments that leading brands were not able to reach before.

---
Anwesha Sarker, Head of Growth at DRIM, observed that new features on social media channels give new opportunities to creators to improve their own reach.
---
According to Arpan Biswas, Head of Marketing at AJIO, using AI influencers seems to be a fad, and that an influencer's connection with their followers does not get replicated with AI. While the ability to customise AI influencers helps, the personal touch that influencers have and their ability to literally influencer, is yet unmatched.
Arpan talked about how partners help brands understand how to quantitatively shortlist influencers who can amplify the brand's message and boost the reach of the campaign using their content. He observed that some influencers can be quite challenging to work with, and agencies have a relationship with influencers so there is an ease of working with them. Partners also help filter out influencers who have bots in their account.

---
Manik Singla, AVP Marketing at BankBazaar, talked about how using local, niche and regional influencers to influence a customer's purchase journey helped increase the brand's reach to a wider, more granular audience.
The ever increasing number of influencers makes it difficult for brands to choose the right influencers. Manik mentioned that agencies help brands filter out irrelevant influencers and connect them with genuine and relevant influencers while keeping the association cost effective. It was interesting to note that he said, when brands approach influencers directly, they charge more as compared to when they approach agencies to engage influencers.

The brand is tapping into the potential of DRIM's data driven approach to bring in better conversion.
---
Bhuvaneshwaran Velusamy, Former Director of Revenue and Growth at Myntra, expressed that a brand's choice of using influencer marketing depends upon the stage of growth it is in. Defining clear objectives for the influencer marketing strategy helps a business achieve better results from the exercise.

Considering whether influencer marketing is the best channel for ROI depends upon whether a brand needs more acquisition or retention per quarter.
---
Neha Agrahari - New age of Confluence: the role of marketing, Technology and Consumers
In her keynote address, Neha Agrahari, Senior Director of Growth and Marketing at Flipkart, talked about the New Age of Confluence: Role of Marketing, Technology and Consumers.

Neha touched upon how important it is for the content used in influencer marketing today needs to be relevant, relatable and personalised because of the hyper personalised approach in marketing at present.

She observed how the marketing funnel has changed from what it used to be, to discovery and exposure, identification of the right people who will engage with the audience in their language and tonality.
Inducing intent is the right approach to be able to create a need, a want to make a purchase. Targeting a niche requirement has become important.
The new age funnel according to her is:
Discovery and Exposure
Inducing Intent
Remarketing
Conversion
Retention
Scalability came across as a very important consideration in choosing the right channel for influencer marketing.
Engagement increases according to vernacular medium helps improve the reach and engagement.
Three pillars that marketers will continue to use are:
Finding the need gap of the core TG.
Converting the brand's functional benefits into emotional relevance
Focusing on positioning and storytelling to connect with the audience better.
Leveraging the content creator's creativity, their unique touch, their connection with the audience is non negotiable. Automating campaigns and making use of AI to replace clerical tasks, conduct market research and cohortize is the smart way to work.
"The new generation (gen-AI) who are digital natives and exposed to AI will aspire to be someTHING, not someONE." - Neha Agrahar
i
DRIM CosmoFest was driven by the vision that the marketing industry needs a networking event at which all heads of marketing from various segments of the industry can unpack and discuss innovative strategies used by marketing heads of leading brands. Judging by the feedback and appreciation still pouring in, the event was a huge success!

DRIM is India's only influencer marketing platform focused on delivering astounding results from a performance marketing perspective, based on the Cost Per Action method.
Contact us TODAY to get started with an influencer marketing campaign with our award winning platform.