Domino's has been a market leader in the Indian pizza market and dominates the home-delivery of pizzas within the country. They have used traditional and modern methods of marketing, coupled with high-class service to establish this stature. So here, I will share how DRIM and HiveMinds Agency helped Domino's Pizza in India to receive over 60000 orders from new buyers in under 6 months and reached an online audience of over 7M for free, generated over 2.3k publications and onboarded ~4k social media influencers for collaboration.
In this case, we openly present figures, discuss the growth trajectory and highlight our strategy that resulted in the success. It will also give an idea to those in the food-tech industry about how we plan to capture the market and generate over 10 lakh orders in the year 2022 for similar companies.
Model of collaboration
To achieve these numbers we implemented the CPA (cost-per-action) model of working with the influencers. According to this model, the advertiser pays the influencer every time their followers take the desired action. This ensures that advertisers pay influencers only for actual results and not just the vastness of their follower base.
Campaign objectives
Right from the start, the objectives of the campaign were very clear.
To drive more direct orders from NEW BUYERS to Domino's website or app
To track and measure the performance of influencer campaigns
Boost brand awareness in untapped markets Success criteria:
The user places an order for the first time via the app or website using a special promo code.
How it was achieved:
We brought micro-influencers to participate in the campaign, educated them on the best ways to create selling and engaging content for the audience, optimised the campaign and the converting segments using the in-built accumulated analytics within the DRIM platform.
Campaign kickoff and growth trajectory
Here's a graph of the campaign's growth and results. We always measure and monitor publications, clicks and conversions.
When the campaign was launched at the end of September, the month was purely a learning phase where we were identifying the best-suited influencers segments, influencers with the right set of audience (qualified and engaged) and different publication layouts that brought the highest conversions. The growth pattern was identified within a few weeks because of the tons of data and learnings brought by the brand and HiveMinds teams. November saw an increase in sales by 18% and by then our algorithm showed us what was working and what needed to be capitalized on. Sales through influencers increased by 145% in December and skyrocketed by 2428% in January.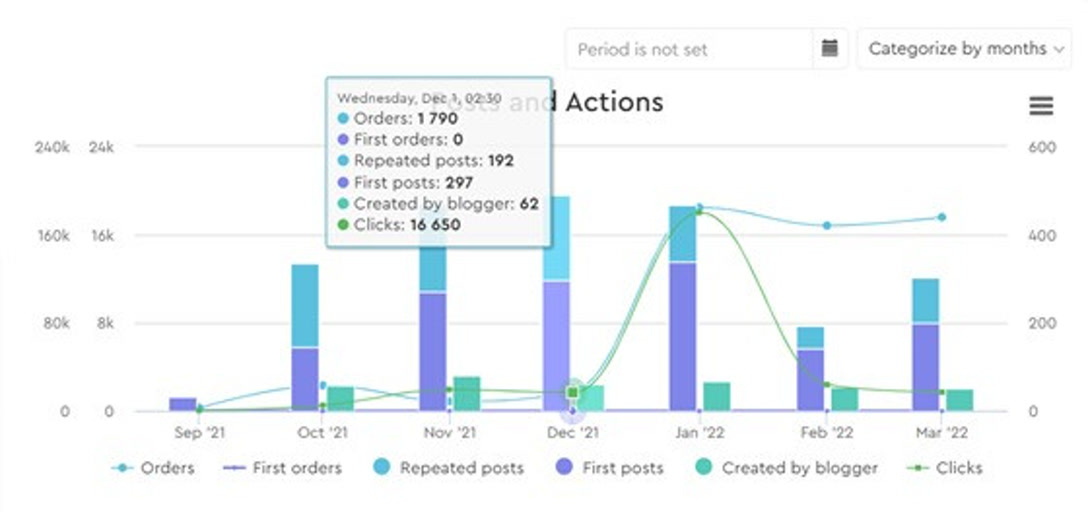 The three factors that helped us scale our campaign dramatically were:
Our machine learning algorithm that helped us identify the influencer segments that were working, the cities that saw more traffic, the highest performing social media networks, influencer and follower demographics and even the highest converting layouts.
Attractive offer for new buyers, clear CTA and detailed description of the target audience provided by Domino's and HiveMinds team.
Our knowledge about Social Media Marketing that formed the core of our influencer campaigns.
Step by step improvements to the campaign
While our logic told us to target food influencers initially, our machine learning platform identified several other converting segments such as humour and entertainment, lifestyle, photography, fashion, skincare and travelling that together contributed to over 24% of the project performance.
We tried all the social media platforms in the initial stages to identify what worked and noticed that not only did Facebook and Instagram bring higher CPA, but the influencers on these platforms were more willing to take up food projects such as this one.
In previous influencer marketing campaigns, posts by Domino's had received high engagement in terms of likes and comments, but the conversions had been low and could not be tracked. It was equally difficult to attribute sales to a particular influencer and identify the most relevant audience.

But with us, every influencers is given a unique link and most often even a unique promo code. Every time someone makes a purchase using the link or the code, the sale gets attributed to them and we can track the most effective influencer with the most receptive audience.
Using this technology, we were also able to identify which layout on Instagram would be the most effective one for this campaign and we capitalised on them.

Instead of buying out a post on a influencer's page and forgetting about it, our influencer used a combination of stories and posts plus reels.
We increased the points of contact with the brand and with every contact, the probability of purchasing on the next contact increased. A single post can continue generating revenue for the influencer and the brand even 30 days after the post which makes CPA such a profitable and interesting way of collaboration. An example of this is given below: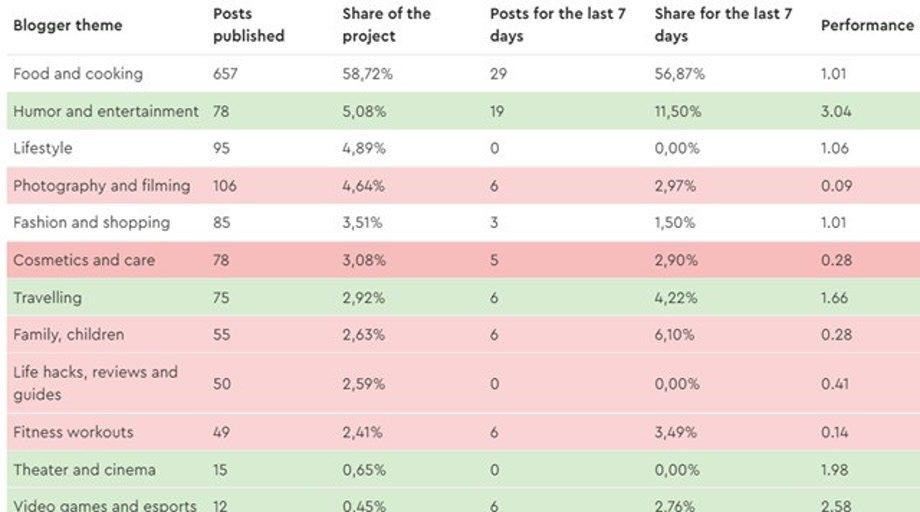 By posting and reposting his reels, our influencers see a constant in pour of CPA even months after the posts.
What we did differently to maximise the CPA
Now, let's have a look at the human side of the campaign that resulted in this massive success.
Social media competency
Out of all the publications we did, 5 of our reels went viral and brought a majority share of sales. This shows our grasp over social media and how we grab on to trends when we see them. Each of our reels has a clear message and a loud and clear CTA.
Market knowledge
We take an active interest in the market and are in the know of everything in related fields. We also do thorough research of the company we take on and understand the marketing strategies they have implemented in the past and take into consideration their learnings from those experiences.
Influencer induction and training
We know that the success of our campaigns lies in the effectiveness of our influencers. Instead of handing our influencers a sum of money and giving them a few lines to post, each of our influencers is assigned a influencer's manager who handholds them through the process. Since each project has its own style, we train our influencers on message delivery, CTA and also help them execute content ideas. Our influencers (and clients) are given access to our platform where they can monitor their performance and also choose other projects of their interest. Several of our Domino's influencers have now enrolled on other food-related projects. This level of transparency encourages and motivates our influencers to treat projects as their own and increases their sense of loyalty towards our brand.
Selection of influencers
Our success also lies with the choice of influencers for each project. Our influencer's database of 250000+ influencers is expanding with each passing day and there are influencers from a variety of segments. Each project has a different set of criteria and type of influencer required. Depending on the project's requirements, our influencer managers are trained to identify influencers that can be a good fit for the project before we take negotiations further. Instead of targeting celebrity influencers who may have an inactive audience, we target micro and nano influencers who have a closer and personal relationship with their audience. The followers of such influencers are more likely to follow their advice over the former. Here are some examples of influencers that have delivered high CPA through publications for Domino's.
While only the number of likes are visible for these reels, the number of views is even higher resulting in brand awareness.
A key point here is that each of our influencer's accounts is checked for bots before they are onboarded.
So all the numbers visible here are free from any sort of manipulation.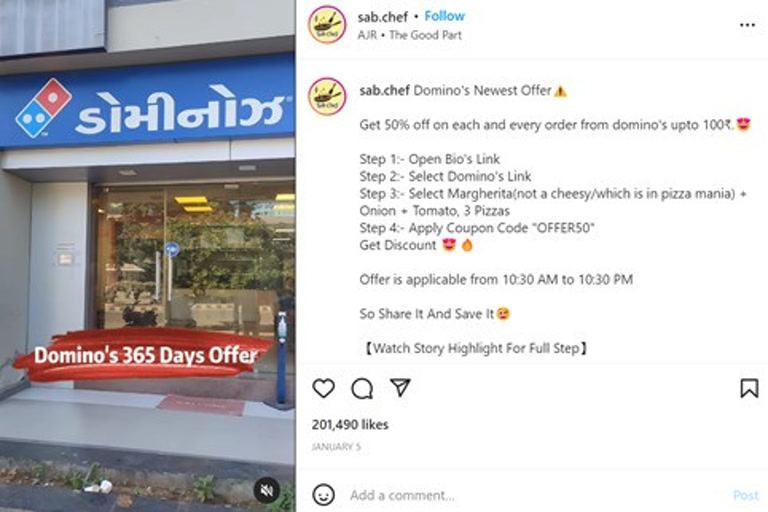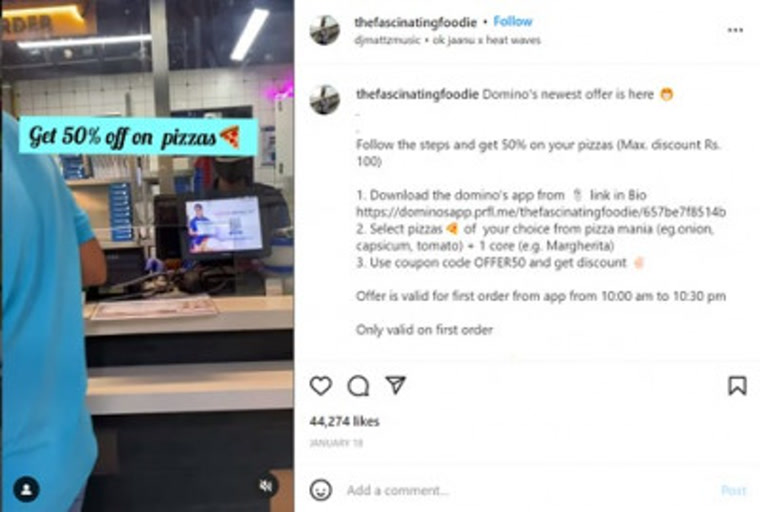 Acquired knowledge
Another key to our success is our cross-applying learnings from other projects. We are working with several other brands such as Abroadify, Sirona, TATA Soulfull, Gourmet Garden, Cocosoul among others and the learnings for every project are interrelated. Our inferences from other projects often help us deliver outstanding results for projects in the same niche.
Venkatesh Kashyap, AVP - Growth at HiveMinds:
At HiveMinds, we strive to deliver results for our clients that are spread across marquee brands and fast-paced startups in the country. We are constantly on the lookout for new channels to support scale for our clients. DRIM has helped us unlock influencer marketing through thousands of microinfluencers in the country to deliver specific brand goals such as rapid scale, visibility for new launches or trials through limited offers for many of our clients.
Rajesh Kumar, Sr. Manager, Digital Marketing:
We got an interesting case study, which allowed us to both increase coverage and work with our audience in a qualitative way, attracting new users to our app. Microinfluencers' publications are not trivial and are creatively implemented, which further creates a positive perception of the message and our brand. DRIM has effectively coped with the set tasks and cooperation with the company has become an integral part of our activities.
People who worked on the project:
Domino's Pizza Team: Rajesh Kumar, Sr. Manager, Digital Marketing
HiveMinds Team: Venkatesh Kashyap, AVP - Growth at HiveMinds
DRIM Team: Yulia Aslamova (Head of Asia), Mihika Pal (Account Manager), Nataliya Migunova, Head of Scouts in India, Kate Nikitonok (Project manager)
What are the results?
We launched the campaign on September 23rd, and have been running it for over four months now. Here are the results:
Before the launch, we analyzed 7699 influencers, of which only 961 social media influencers were invited to cooperate.
influencers posted a total of 2,294 posts on Instagram, Telegram, Facebook and MX Taka Tak.
The posts received over 6 lakh likes and more than 20,000 comments.
Domino's Pizza received 60000+ orders from new customers directly places on website or the brand app.
The top 10 influencers earned an average of 96,620 rupees per post.
The CPA (Cost-Per-Action) model in influencer marketing is a relatively new concept in India and it thus poses some challenges. But, by targeting micro and nano influencers, we see that the results are exceptional and such influencers are even more receptive to the model. The Domino's Pizza success backed by our powerful machine learning platform gives us the confidence that we can effectively use CPA to generate over 10 lakh orders in the food tech industry.