Hey!
My name is Yulia Aslamova, and I am Head of Asia at DRIM - a performance influencer marketing platform. We bring clients with the help of micro-influencers. The payouts are made only based on results, which means a influencer only receives money if his advertising works.
Today I'll tell you how we, along with the MGCom agency, brought customers to KFC in the CIS region: what hypotheses turned out to be failures, why users did not place orders, and what numbers were achieved.
Task
Bring new customers of the KFC app, who will place an order in the app and pick it up at the restaurant. Tell about the convenient functionality of the "self-delivery" application - quickly, without queues, with fantastic promotions.

Success criterion
The user downloads the app and places their first order.
How we've reached the targets
We attracted micro-influencers to cooperate. Our advertising message was to take advantage of the new self-delivery function to order in the application and pick up at the restaurant without any queues.

Launch of an advertising campaign
The campaign launch is the most exciting and responsible stage. To understand the type of influencers that will bring high results, you first need to determine the portrait of the target audience: for whom the advertised product is relevant and what needs it covers. We have selected several target audience groups and selected a relevant message for each.
Students-
KFC is popular with students: it's a quick bite to eat, and the food is often tastier than lunches at the university cafeteria.
Our hypothesis: a student can place an order as soon as the university has a break, then walk to the nearest KFC and pick up food without waiting in line.
Office employees-
On a working day, it's not always possible to eat calmly: at lunchtime, there is a queue in the cafe, the cook prepares food for a long time, and the manager has already sent urgent corrections.
Hypothesis: it will be convenient for an office employee to order food on the way to the nearest restaurant and pick up the order without queues. In the morning, on the way to work, you can take coffee with you in the same way.
Fitness club clients -
Fast food restaurants are rarely paired with a sports diet, but KFC has low-calorie dishes made from chicken, a popular food among athletes. We assumed that on the way from work to the gym, a person would want to have a snack and drink coffee to relieve fatigue. Of course, without wasting time in queues.
Pickup is especially relevant during a pandemic, when the number of seats in cafes and restaurants have been reduced.
But the only issue we faced was influencers did not immediately agree to work.
In the beginning, we received a lot of objections from influencers. The main thing is that self-pickup in the KFC application is of no interest to anyone. In fact, ordering a delivery is not always convenient, and in good weather it is more pleasant to take a walk and pick up the order yourself.
We were ready for objections and we convincingly persuaded influencers and to make it easier for them to decide to start working with us, we offered to help with the creation of advertising content and prepared descriptions of dishes from the KFC menu.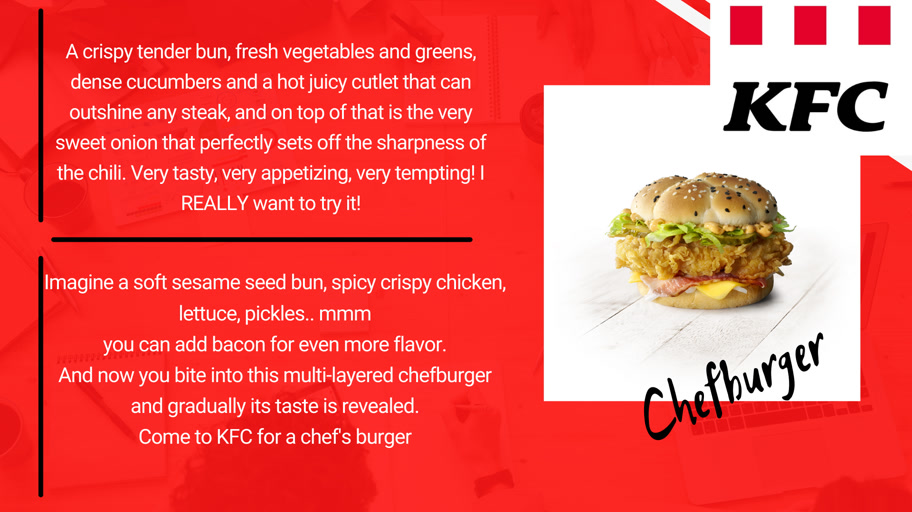 Please note that we have translated this content from Russian to English specially for this article


An example of a description that helps a influencer with advertising. Influencers used our text or wrote their own based on it - as you like. View all example descriptions →
Publication examples
The campaign began with a focus on younger audiences and lifestyle influencers from Instagram and TikTok. We've also invited a few Twitch streamers to test the Crispy Chicken Entry during our streams. Influencers who talk about bargains and local news from different cities also wanted to cooperate with us.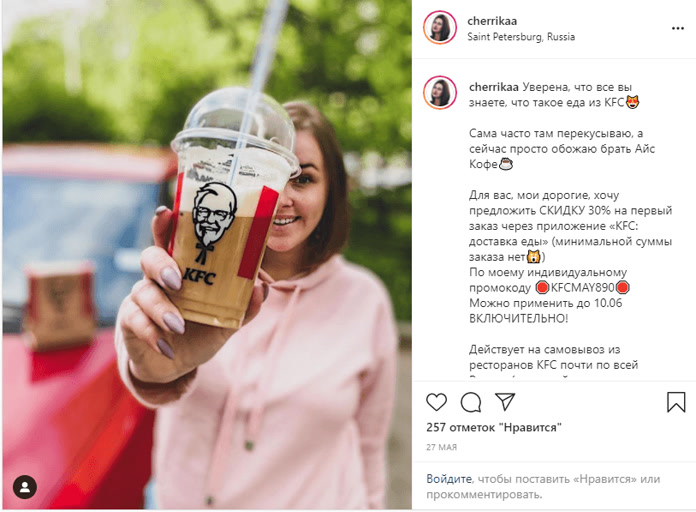 Please note that the publication has been made in the local language