Real example of how to earn money from Instagram reels with DRIM
CPA (aka Cost-Per-Action) is a relatively new model of working in India but this model has the potential to transform the influencer marketing industry. Those who have understood how to work with this system on DRIM have started earning lakhs just from single publications.
Let's take an example of our food influencer sab.chef (Kishan) who has earned over INR 500, 000 in just 3 months by promoting Domino's on their Instagram profile.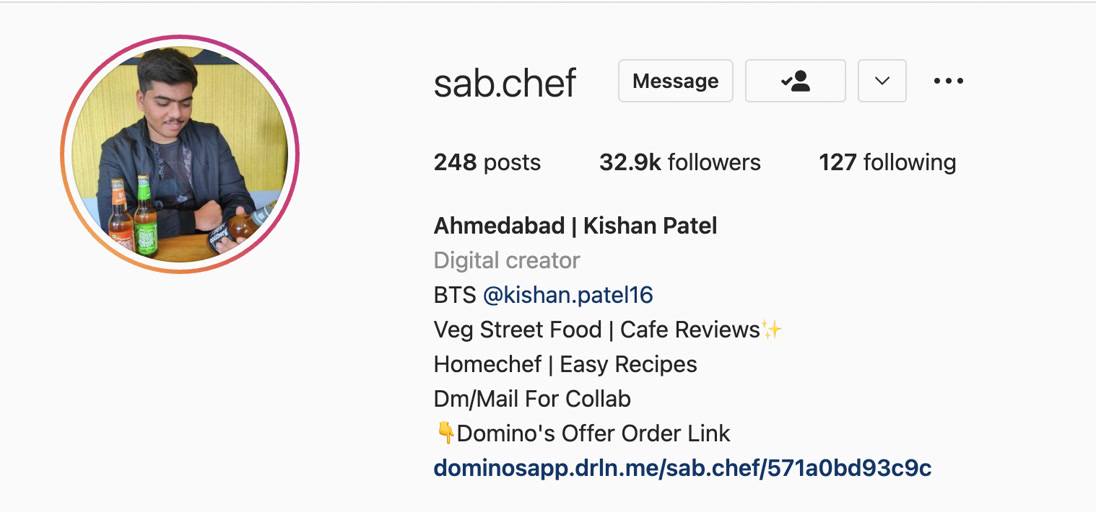 If Kishan would have chosen to work on the per post model, based on the size of his followers and engagement rate, he could have charged us ₹30,000 for the post and be done with it. But he chose CPA and even after three months of posting the reel, his income is increasing in lakhs…from just one post!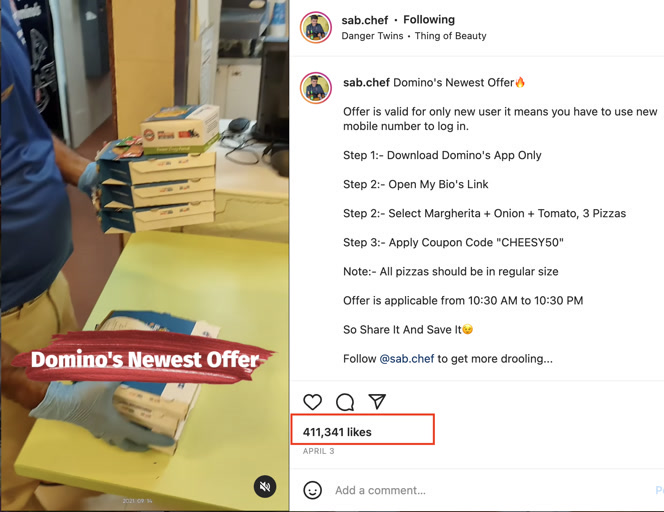 This is the beauty of CPA. You can keep earning from one post even months after it has been published. All you have to do is increase the number of times your followers come in contact with the post by resharing or reposting it.
Why working with the CPA model? Advantages for influencers
The CPA model is rewarding for those who can bring conversions. For this, you need to have an active audience with zero fake followers. Working with DRIM, every blogger and influencer is given a unique tracking link and a promo code. Every time someone uses your promo code to make a purchase, the sale gets attributed to you and you get a percentage of the income.

Suppose a brand pays ₹200 for a conversion. Just by bringing 10 conversions, you can earn ₹2000. Once you have made a publication, all you have to do is encourage your followers to use your code, engage with your post and you can reshare it periodically with your audience.
Hidden benefits of working with DRIM CPA
Apart from the earning potential, there are other benefits of working with CPA that are not very obvious, but make a lot of difference.
Growth in follower base: Before Kishan started working with DRIM, he had a follower base of approximately 16k. His reel became viral because of the attractive offer and was reshared multiple times. In three months, he has seen a steep increase to 17.8k followers.
Unique offers with DRIM: All the discounts that DRIM offers to influencers' followers are unique to us. Your followers cannot find such offers anywhere else (not even the brand's website). This encourages your followers to keep coming back to your profile for such attractive offers.
Boost in engagement and reach: When the offers are so attractive, followers are more likely to purchase using your promo code than pay the full price elsewhere. For this, you must carefully choose the projects that your followers are interested in. You can run short polls on your profile to see how many of your followers use a product you are planning to promote. Higher the number of users, the higher the number of conversions.
Activates your follower base: After his success with Domino's, sab.chef's Kishan chose several other projects from DRIM dashboard. His followers have been activated as they are aware of the interesting offers on his profile and more likely to use his promocode for several other related projects.
Related post: get a verified badge on Instagram and transmit even more authority to your audience
---
How to work with the CPA of DRIM and start making money on Instagram
Every influencer registered with DRIM is assigned a personal influencer manager. While these managers hand-hold their influencers through the process, here are the steps to follow to make a publication:
Login to DRIM platform: Once you register on the platform, each influencer gets their unique login credentials. To make a publication, login to the platform.
Browse projects on the dashboard: There are 15+ active projects on our platform at the moment and new projects are getting added every week. Some of them include Gourmet Garden, TruHair, Sirona, CocoSoul, Pure Sense, Abroadify, TATA Soulfull and Flatheads among others. Every project card has all the information related to the project such as the influencer payout, influencer criteria, supported social media platforms, etc.
Analyse your audience: Before selecting a project, understand what your audience may be interested in and study their demographics. Only when your audience is interested, they will make a purchase and it will bring you high conversions. For example, if 60% of your followers are women, they may not purchase men's grooming products. Choose your projects wisely to see the highest conversion rate.
Choose a project and make a publication: Understand how your audience interacts with you, i.e. when you post stories/reels/posts. Use the readily available layouts from our Platform and publish them with your link and promocode.
Bring conversions and get paid: Every time someone visits your link and makes a purchase using your promocode, money gets added to your account on DRIM. Reshare your post after a few days of posting or repost it periodically for people who may have missed seeing it.
Withdraw money directly: Every project has a hold period after which you can withdraw your funds. Add your payment information to the platform and withdraw funds at your convenience.
Invest in a sample: Once you identify the best project for your profile, it is a good idea to use the promocode yourself and make a purchase. Creating content around your purchase and purchase experience can be a great content idea and can also build trust with your audience as they see you as a user of the product and not just a promoter. Sab.chef ordered pizzas from Domino's using the promocode and made a video using the same which is a major factor that resulted in his success.
More followers, more sells. Read our guide on how to gain followers on Instagram
Reasons why DRIM's CPA model is effective for influencers
Leading brands in India: We handpick the clients we work with and every brand listed on our dashboard is a market leader and has good brand recognition. Bringing conversions for such brands is relatively easy as they have an established brand image. In a recent collaboration with HiveMinds Agency, we have been able to drive more than 60k first orders in just seven months!
Access to international projects: Influencers can access and apply for international projects listed on the platform if they predict high CPA from the profile.
High scope of earnings: Our projects come with high payouts and can easily surpass your earnings from publications where you get paid per post. If you bring high conversions for a brand, you can even become a brand ambassador for it.
Transparency: You get complete access to the system where you can see how many people have used your promocode and the amount of money you have earned. In case of any doubts, you can reach out to your personal manager and they will resolve your issue within 24 hours.
Though the CPA model is a relatively new monetization strategy in India, the key to achieving success in the CPA model is to create the right mix of interesting products for your followers and design a catchy content plan that triggers them to take action.
The DRIM platform presents opportunities for all types of social media influencers. It helps large brands and agencies manage influencer collaborations by applying the large data set's power and the detailed accumulated analytical system (ML). The main objective is to ensure that Instagram account holders and Youtube channel owners find it beneficial to work on the cost per action (CPA) or cost per acquisition models.
Author: Mihika Pal,
Account Manager at DRIM